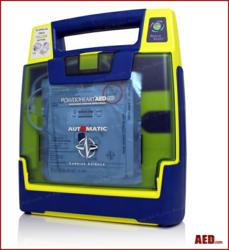 Brentwood, TN (PRWEB) August 27, 2012
A Cardiac Science Powerheart G3 AED has been donated for free to Terumo Heart from AED.com. The donation was part of a 2012 goal to donate 100 AEDs to various groups and organizations.
Terumo Heart is actively developing, evaluating, and commercializing the DuraHeart Left Ventricular Assist System (LVAS).
"The DuraHeart system is designed to provide long-term circulatory support and address the shortage of donor hearts for cardiac transplantation. Combining patented magnetic-levitation and centrifugal pump technologies, the DuraHeart's proprietary blood-friendly design helps decrease complications and improve the lives of patients with severe heart failure."
The Powerheart G3 AED donated is one of the industry's leading AEDs. The AED can determine if a shock is needed, without pressing a button to "automatically" detect the patient's heart rhythm and shock delivery. It provides continuous monitoring of patients during and after sudden cardiac arrest. With these and many other lifesaving features,Terumo Heart will be more prepared in an extreme situation.
SCA (sudden cardiac arrest) strikes over 350,000 people in the United States every year. The only thing that will potentially save those included in this staggering statistic is a defibrillator. AED.com's mission is spread awareness about Sudden Cardiac Arrest and the importance of quick access to an AED.
AED.com is headquartered in Brentwood, TN. AED.com's parent company, DXE Medical Inc. was founded in 1999 and provides services to over 20,000 customers in all 50 U.S. states and 35 countries worldwide. For more information, please visit: http://www.aed.com/