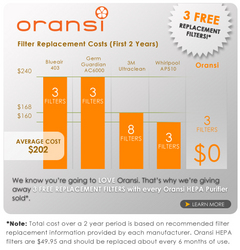 Austin, TX (Vocus) June 22, 2010
HEPA air purifiers from Oransi – http://www.oransi.com – include three free filters from June 23 through July 6. The HEPA filter promotion offers consumers a savings of more than $200 versus competitors' models. Oransi v-hepa air purifiers also come with a 10 year warranty, a best in class 30 day money back guarantee and free shipping.
Oransi offers two HEPA air purifier models – the v-hepa air purifier and the v-hepa PRO UV air purifier. Both Oransi v-hepa air purifiers offer consumers the following benefits:

Save money: in addition to including three free filters - a savings of more than $200 versus competitors' models (and provides the convenience of not needing to purchase a replacement HEPA filter for two years) - Oransi v-hepa air purifiers are Energy Star qualified. As a result, they have a low operating cost of only $2 to $3 per month to operate - compared to the competitors' brands which cost up to $8 per month.
Effective: independently tested and proven to remove more than 99.5% of particles with each air pass for dust, pollen, bacteria, pet dander, mold and other airborne particles. The Oransi v-hepa PRO UV additionally removes viruses, gases, smoke and VOCs.
Quiet: Oransi v-hepa and v-hepa Pro air purifiers are recognized as the quietest of the HEPA air cleaners.
Best money-back guarantee in industry: Oransi has the most consumer-friendly return policy in the air purifier industry. If not satisfied with the Oransi air purifier within the first 30 days, contact them for a refund in full for the product.
Intuitive and easy to use: simply plug in, turn on, and start breathing easier.
Lightweight: easy to move around the house.
V-lock: no air by-pass so all the air is filtered resulting in superior air filtration performance. Pro UV model also has insulation material (v-seal) around the edges of the filter media to prevent any air leakage around the HEPA filters.
Safety: Oransi air purifiers will stop operating if the cover is opened. This feature is especially beneficial in homes with children or when placing in kids' bedrooms. Oransi HEPA air purifiers also have received safety certifications from ETL, GS and CE as well as the RoHS lead free directive. Both are made of durable fire-resistant ABS materials.
The Oransi v-hepa air purifier is best used in rooms up to 400 square feet (20' x 20') – the average size of a bedroom. It has a HEPA filter efficiency of 99.97% and a filter life of 5 to 10 months, depending on frequency of use. It has three fan speeds, mechanical controls, weighs only 10 lbs. , measure 17" x 16" x 6" and is $385.
The Oransi v-hepa PRO UV air purifier is best used in rooms up to 500 square feet (20' x 25') and includes an air quality color coded monitor that keeps track automatically of the home's air quality and adjusts the fan speed if operated on auto mode. This high-end HEPA air purifier also includes a washable pre-filter, activated carbon filter for light odors, UV-C germicidal light for bacteria and germs, PCO (photo-catalytic oxidation) for VOCs and gases, a negative ionizer, room air quality display and a remote control. The price is $499.
Visit http://www/oransi.com for more information or to purchase.
Media Contact:
Ria Romano, Partner
RPR Public Relations, Inc.
Tel. 786-290-6413
# # #