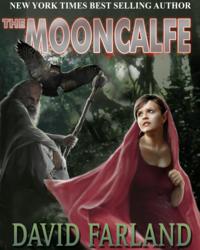 The Mooncalfe deals with Merlin the Magician from Arthurian legend and offers a strange twist...
St. George, UT (PRWEB) January 14, 2012
New York Times Bestselling Author David Farland, award-winning author of the Runelords series, is offering a short story as a free e-book on his web site at http://www.runelordsmovie.com. The promotion starts Monday, January 16th and ends on the 20th.
Says Farland, "This is one of my favorite short stories, and I thought that it would be a treat for Runelords fans who might not have ever seen my short stories before. At the same time, as we prepare to make this movie, I saw it as a great way to introduce readers to my work."
The story, "The Mooncalfe," deals with Merlin the Magician from Arthurian legend and offers a strange twist in the way that he is shown. In ancient folklore, Farland contends, Merlin was what would have been considered an evil sorcerer. "In this story, after more than a thousand years, I'm re-casting him in his original light."
The story will be available for free from January 16th through the 20th at http://www.runelordsthemovie.com. Once there, visitors click on the link, and download the story for free from Amazon.com. While at http://www.RunelordsMovie.com, visitors are encouraged to check out the site and vote for their favorite stars for the film.
Mooncalfe is being given away to promote awareness of the upcoming Runelords movie, based on the best selling series of the same name. It will be a big budget, epic fantasy movie. Actors and directors have not yet been selected, but many big name actors are being considered, including Zac Efron, Kellan Lutz, Hayden Christensen, Brad Pitt, Russell Crowe, Bruce Willis, Rooney Mara, Aishwarya Rai, Katrina Kaif and many others not yet made public. Fans can pick the actors they would most like to see for the movie by voting in a poll at the website.
About David Farland: Farland is a multiple bestselling author of more than fifty novels, including work on the Star Wars franchise, the Mummy, his own series the Runelords and his latest novel Nightingale. His final Runelords book will come out late this year. David has also trained many bestselling authors such as Stephenie Meyer of The Twilight Saga, Brandon Mull, Brandon Sanderson, and many more. His staff can be reached at http://www.davidfarland.com.
# # #