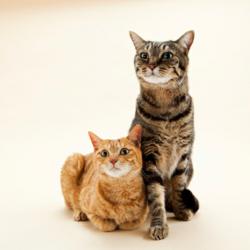 We are at a tipping point, we prefer to adopt as many cats as we can to loving homes than face the alternative
Winnipeg (PRWEB) November 13, 2012
The Winnipeg Humane Society is receiving hundreds of stray and abandoned cats; 606 arrived at the shelter in October. The incoming numbers are expected to continue for the next two weeks. In an effort to make space for more cats arriving daily, the shelter is having an event where adoption fees are waived.
On Friday, November 16, 10am – 7pm adoption there will be no fees to adopt a cat over 4 months of age; kittens under 4 months of age will $99. "We are at a tipping point, we prefer to adopt as many cats as we can to loving homes than face the alternative," said Bill McDonald, WHS CEO.
Despite the efforts of WHS programs like SNAP (Subsidized Spay & Neuter Assistance Program) and TNR (Trap Neuter Release) for feral cats, the WHS experiences an increase in the number of cats arriving at the shelter each fall. "As the cold weather settles in, people scoop up the stray cat that has been hanging around their yard," continued Bill McDonald, "Our record was 195 incoming cats in 7 days, in 2009." The WHS will takes in between 8000-9000 animals on an annual basis, and perform close to 6,000 spay and neuter surgeries.
The same adoption process will be in effect, adopters can find an application form at: http://www.winnipeghumanesociety.ca/adoption-forms. All adopted cats are: spayed/neutered, tattoo ID, first vaccination, de-worming, 6 weeks of Pet Secure Insurance, and two-week health check. Monetary donations will be accepted.
# # #
The Winnipeg Humane Society is a registered charity and non-profit organization whose mission is to protect all animals from suffering and to promote their welfare and dignity. Funded primarily by donations, memberships and bequests, The WHS has pets for adoption to the public. All pets offered for adoption and sale have been spayed or neutered, received necessary shots and treatments, and a behavioural assessment. If you'd like to learn more about cats or dogs for sale or The WHS please visit http://www.winnipeghumanesociety.ca