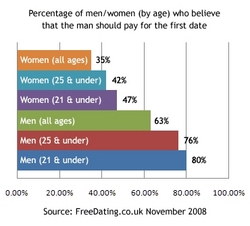 If you are on a tight budget, try and make up for your lack of funds with an abundance of imagination - doing something interesting or exciting will make the small budget less obvious
Reading, UK (PRWEB) November 27, 2008
New research by UK online dating site Free Dating.co.uk shows that singles are spending as much as ever on a first date, despite the credit crunch.
Just 12% of single men were expecting to reduce the amount they would spend on a date due to the economic meltdown.
The study also revealed a surprising disparity between the sexes when it comes to the thorny issue of who should pick up the tab for a first date: 64% of guys believe the man should pay, whilst only 35% of women would expect their date to settle the bill.
Even more surprising was the revelation that the younger the respondent, the more traditional their views on this subject.
When under 21s were asked the same question, 80% of guys thought the man should pay, with 47% of women agreeing that the man should pick up the tab.
Dan Winchester of Free Dating.co.uk commented: "This research shows that the traditionally-held view that the man should pay for a first date is alive and kicking - even more so amongst the younger generation. Furthermore, guys are not letting the credit crunch hold them back when it comes to splashing out on a first date".
Asked how much they would spend on a date, Liverpudlians were by far the most generous, budgeting an average of £72. They were followed by guys from Coventry and Birmingham.
Sheffield singletons were the stingiest, with an average budget of £45. Guys from Nottingham and Southampton were also languishing at the bottom of the generosity table.
Londoners were reasonably high up the rankings, with an average budget of £64.
However, there were marked differences within London itself, with the majority of guys from Chelsea expecting to pay in excess of £100 for a first date. Chelsea was followed closely by Greenwich and Kensington in this respect.
Meanwhile, single men from Kilburn, Stoke Newington and Walthamstow were amongst the tightest, where the average budget was below £50 in each case.
Respondents also had the opportunity to recount the stingiest first dates they had been out on.
One woman was taken to McDonalds, where her date revealed he only had enough money for two kids meals.
Another was taken to the cinema on "Orange Wednesdays", where she paid for the ticket, whilst her date had the free one.
Other cheap dates included dinner at a free food outlet for the homeless, and a day out badger watching.
Winchester commented: "Whilst the majority of women are perfectly happy to pay their own way on a first date, men should be aware that most of their fellow suitors will be offering to pay. Our research also confirms that, unsurprisingly, many women find meanness with money an unattractive trait".
"If you are on a tight budget, try and make up for your lack of funds with an abundance of imagination - doing something interesting or exciting will make the small budget less obvious".
For more cheap date stories visit Free Dating.co.uk's Dating in the Credit Crunch.
Notes to editors:
About this research:
This research was based on an online poll of 9,565 UK members of FreeDating.co.uk, questioned between 6th and 18th of November 2008.
Media resources for this release (graph, tables, logo):
http://www.freedating.co.uk/l/cc/cc.html
About FreeDating.co.uk:
FreeDating is a completely free UK online dating site, established in 2005. Users can create profiles, post pictures, search, send and receive messages all free of charge. The site makes money through advertising. FreeDating.co.uk currently has over 50,000 active UK members.
About Dan Winchester:
Dan Winchester, 34 and from Reading, is director of Labworks Ltd, which runs FreeDating.co.uk and various other internet ventures. He previously held positions at FHM and Yell.com.
Further information:
Dan Winchester
07780 904273 / +44 7780 904273
###