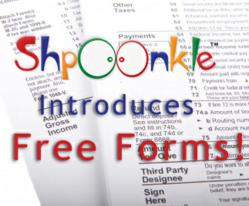 Clients who want a lawyer to review their completed legal form can also transfer it electronically to one of the Shpoonkle Legal Members for review and assistance.
Miami, Florida (PRWEB) January 16, 2012
Shpoonkle is now offering free legal forms, free legal information, and a directory of legal professionals from the United States and Canada. Shpoonkle is a legal services marketplace with centralized resources that are free to anyone to use.
Some legal trends were apparent for 2011 and continue in 2012, and Shpoonkle is on board with all key consumer focused ideals. Alternative fees and lower costs are a critical trend for the legal industry. Shpoonkle continues to create free resources for informed and educated consumers who then can shop wisely and save money.
Many consumers purchase forms from commercial sites, and they do not get legal advice. Shpoonkle has compiled a large centralized collection of these forms, and are providing them to all users for free. Shpoonkle advises users to always seek legal advice on important legal issues, but certain forms could be completed by consumers. Examples of some forms might be: social security forms, motor vehicle forms, tax forms, and other forms that may not need a legal professional's guidance. But, when needed there are thousands of Shpoonkle attorneys ready to help at a price any consumer can afford.
Consumers who register at Shpoonkle can view, download, and print any form. "Clients who want a lawyer to review their completed legal form can also transfer it electronically to one of the Shpoonkle Legal members for review and assistance," said CEO Robert Niznik.
The benefit to the newest Shpoonkle feature is to provide a centralized hub for State and Federal forms to everyone for free. People needing these forms don't have to pay for them anymore, or scour the internet to find the correct one. Then when they review the form, they choose to either find an affordable attorney on the site to assist them, or do it themselves. Shpoonkle is providing a one stop center for all consumers' legal needs.
Shpoonkle continues to add free features, and is becoming known for its incredible free resources and customer service. As an advocacy based service, Shpoonkle's mission is to facilitate attorneys to find more clients, and empower consumers searching for affordable legal representation. Shpoonkle legal professionals are all in good standing, and eager to help clients with their legal needs.
Whether a simple form or complicated legal assistance is required – Shpoonkle is the one place that can be counted on to find what is needed at a price any consumers can afford.
Shpoonkle and Shpoonkle Canada are either registered trademarks or trademarks of Shpoonkle, LLC. in the United States and/or other countries. The names of actual companies and products mentioned herein may be the trademarks of their respective owners.
For more information, press only:
D. Morgan, 305-712-2822, info(at)shpoonkle(dot)com
For more information on Shpoonkle:
# # #