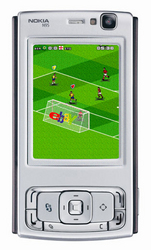 and pay for them, in game advertising is a good way to address
Berlin, Germany (PRWEB) October 19, 2007
Jamster, one of the world's leading providers of digital entertainment, able to reach one in six consumers around the globe, and innerActive Smart Media, a leading provider of innovative ad-funded entertainment channel, have announced today a trial of a new Mobile In-Game Advertising service in the UK.
This consumer based infotainment trial offers British cellular subscribers the opportunity to download free mobile games from well known games developers as well as for example the award winning game "Cubes" by Ojom, a games developer owned by Jamster. The users will be exposed to truly non-intrusive ads, which are dynamically embedded and changed within the games. The mobile advertisements and promotion features are sponsored by top international brands such as: Calvin Klein, Domino's Pizza, Fox, SPIDER-MAN™ 3, Paramount Pictures, What's on TV, Pick Me Up, NME.COM, and eBay.
The mobile in-game advertisements are targeted and segmented in real time according to users' behavior and responses, generating valuable incentives like wallpapers & movies trailers, and several prizes such as portable media players or pizza vouchers.
Lee Fenton, COO of Jamster, sees this kind of advertisement as a new source of revenues: "In our ever increasing efforts to strive to meet our customers' needs for mobile entertainment content, this new offer enables Jamster to target new usage groups. In a market where most consumers play mobile games on their handset but only a small percentage actually download them "over the air" and pay for them, in game advertising is a good way to address "first time users" of mobile games."
"We are delighted to drive our ad-funded catalog with the world leading digital content distributor Jamster," said Offer Yehudai, VP Products and Business Development at innerActive. "I strongly believe that this new entertainment channel will create an enriched user experience, reaching a vast and untapped audience, setting a new type of interactive dialog between the advertisers and the consumers."
"The innerActive solution provides Jamster flexible capabilities for dynamically delivering in-content and contextual multimedia advertisement," said Ziv Elul, VP Marketing and Strategic Alliances at innerActive. "By offering our partners increased revenues, generated by ad-funded games - we will enable them to enrich mobile users in the UK with more services and value added benefits."
innerActive provides a smart media platform for delivery of promotions and advertising in the space of rich content mobile media. The innerActive solution provides relevant contextual and dynamic advertising for high impact advertising campaigns, such as in-content placements, click to call, mobile coupons and incentives.
About innerActive:
Founded in 2005, innerActive Smart Media is a leading provider of innovative ad-funded advertising channel for mobile operators and portals, media agencies and content providers. innerActive's platform enables scalable and dynamic product placement solutions for rich media mobile content as well as coupon management according to the user's profile and consumption behaviors - All this in a living catalog of mobile games, WAP, applications, IM and video.
innerActive has recently launched its commercial service with Cellcom, Israel's largest operator, offering free mobile content.
For more information about innerActive Smart Media please visit at http://www.inner-active.com.
About Jamster:
Jamster is one of the world's leading providers of digital entertainment able to reach one in six consumers around the globe. With a wide offering of mobile products and services available directly via mobile phones, Jamster connects people with their passions in 35 countries on five continents and in 25 languages. Branded popular content from around the world including The Simpsons, the latest content from major media companies, including chart-topping ringtones from top music labels, mobile games from renowned game developers, and original content made exclusively for mobile phones, allows Jamster to give consumers what they want, when they want it and where they want it. Jamster is a joint venture between News Corporation (NYSE: NWS, NWS.A) and VeriSign, Inc. (NASDAQ, VRSN) and headquartered in Beverly Hills, Calif., and Berlin, Germany.
Company Contact:
Offer Yehudai
VP Products and Business Development
InnerActive Smart media
+972-52-8900088
Ziv Elul
VP Marketing and Strategic Alliances
InnerActive Smart media
+972-52-2690000
###