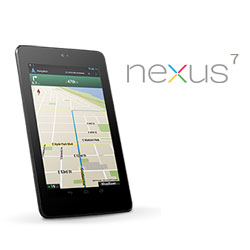 We wanted to offer customers with a tool that is both fun and productive. The new Google Nexus 7 is one of the best Android-based tablets for the money and we think our customers will love it
Prince William, Virginia (PRWEB) November 14, 2012
Founded in 1999, Advanced Web is a trusted provider of website design, development, and hosting services. The company recently announced they will offer a free Google Nexus tablet to new customers who contract with them to have a small-business website created.
Known for offering value-added incentives to new customers such as free mobile websites and press releases, this latest promotion is a deviation from past practices. "We wanted to offer customers with a tool that is both fun and productive. The new Google Nexus 7 is one of the best Android-based tablets for the money and we think our customers will love it," said Brad Caricofe, Director of Business Development.
The Nexus 7 tablet has a 7-inch 1280x800 HD display with scratch-resistant Corning glass, a 1.2 MP front-facing camera, 16GB of internal storage, and an NVIDIA Tegra 3 quad-core processor. It also features support for WiFi and Bluetooth connections. The device runs the latest version of the Android Operating System, known as Jelly Bean (version 4.1).
The company plans to extend this offer to all new small-business website customers until December 31, 2012. "We've purchased 10 tablets so far and have given away 2; the clients who received them have given us some great feedback and absolutely love them," said Caricofe.
For more information, or to receive a proposal for a small business website, contact Advanced Web through their website, http://advancedwebllc.com.
About Advanced Web
Advanced Web has been providing professional web development, search engine, and systems engineering solutions to over 400 clients worldwide since 1999. For more information on Advanced Web's services, visit advancedwebllc.com.