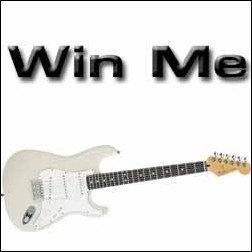 I want people to have a chance to play the same guitars I love to play
Lemon Grove, CA (PRWEB) April 18, 2007
Guitar Warehouse has just started a free electric guitar giveaway for 3 premium quality electric guitars. Members of Guitar Warehouse's mailing list will be eligible for 3 drawings scheduled to be conducted on June 30, 2007, September 31, 2007 and December 15, 2007.
There is no purchase required, just sign up for the mailing list and as long as you are on the list you will be eligible for any of these and future giveaways.
"I want people to have a chance to play the same guitars I love to play" says Bill McRea, Owner of Guitar Warehouse. "Each guitar has been selected based on style, tone and playability"
The June 30, 2007 drawing will be for the famous Standard Fender Stratocaster. This is the type of guitar played by Jimi Hendrix, Eric Clapton, Stevie Ray Vaughn and a host of well know blues and rock guitarist.
The September 31, 2007 drawing will be for a Washburn IDOL, one of Bill McRea favorite guitars, know for the classic looks and wide range of tonal possibilities.
The final drawing will be for a PRS Custom 24 worth over $3,000. PRS Guitars are world renowned for their playability and are amongst the most popular guitars used by touring professional musicians.
Drawings will be conduct by a program that will search through the company's mailing list and randomly select the winner. Winners will be announced shortly after the drawing, and the guitar will be delivered within 30 days from the date of drawing.
In total Guitar Warehouse, and its affiliated websites provide consumers over 40,000 musical instrument products, but Guitar Warehouse also offers more than selection. With a liberal return policy, free freight on most items and a 45 day best price guarantee, Guitar Warehouse is quickly becoming a premier supplier of guitars and musical instruments.
For more information about the company and its new products, visit our website for Electric Guitars, Bass, drums and all your musical instruments.
About Guitar Warehouse:
Formerly known as 24hourguitar.com, Guitar Warehouse has been in business since 2002. Guitar Warehouse focuses on providing musicians with the largest possible selection of products and premium customer service. Guitar Warehouse is know for have a huge selection of electric guitars. The online retail operation is owned and operated by McRea Site Development, based in Lemon Grove, Calif. Gibson Les Paul guitars can be purchase from Guitar Warehouse.
FOR MORE INFORMATION, CONTACT:
Bill McRea, Owner
(619) 241-1132
###