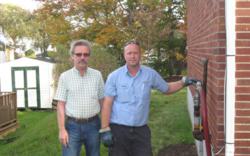 Dartmouth, Nova Scotia (PRWEB) October 31, 2012
Laurence, of Dartmouth, Nova Scotia has won the grand prize of free heating oil for a year in Irving Energy's "The Heat is On Us" sweepstakes. Mr. Naylor was selected at random from over 40,000 entries in New England and Atlantic Canada.
Laurence originally learned about our contest through an e-mail, and when he first found out he was the winner, Laurence was in complete disbelief as he told us, "I never win anything".
The picture to the right is from Laurence's first delivery of free heating oil, and when we asked what winning the grand prize meant to him, Laurence said "Freedom of no payments for a year! Thank you Irving Energy".
"We had a great response to our "The Heat is On Us" sweepstakes. Everyone seems to love free! Congratulations to our 7 winners, and look for more opportunities to win free propane or heating oil in the future," said David Simmons, Marketing Director at Irving Energy. Six other entrants from Northern New England and Atlantic Canada were chosen at random throughout the sweepstakes, each winning the equivalent of a tank's worth of propane or heating oil.
About Irving Energy
Irving Energy offers competitive heating oil, propane and diesel prices, over 99% on time delivery, and expert equipment service, installation and repair. Since 1924, we've been supplying our customers with the highest quality heating oil, propane and diesel available along with excellent service. For more information, visit irvingenergy.com.