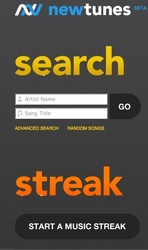 The music industry is broken
Madison, Wis (PRWEB) April 10, 2009
With today's launch of NewTunes.com, music fans who enjoy seeking truly new, unheard and unsigned music now have a web site that recommends songs that sound similar to their favorites -- without any bias toward popularity or sales rank.
Musicians now have an online partner that will serve up their music immediately, with unbiased music recommendations that focus on the similarity of the music, not past sales or song popularity. In fact, the site is powered in part by fans, who earn free music downloads by interacting and playing on the site while actually helping strengthen the NewTunes search experience as they search for new music.
Unlike other music recommendation sites whose search recommendations favor songs or artists that are more popular or have sold more songs, NewTunes has crafted a never-seen-before hybrid music search -- combining algorithms, waveform analysis and organic user input -- that produces results based solely on how similar the results song sounds to the seed song, with no weighting for popularity or previous sales.
The only online music search engine of its kind to incorporate hybrid search technology with fan feedback, NewTunes offers fans a unique opportunity to explore music and discover new, unknown artists while earning free music, and provides a social community to connect artists and fans, and promote the exploration of new music for all.
"Most music sites rely on a popularity-dependent search philosophy based on a 'those who liked this also liked that' operating model," says Joe Kletzel, president of NewTunes. "That model tends to recommend music that "music experts" in a back room somewhere already like, or a song that rises to the recommendation level by meeting some sales threshold. These methods only expose songs that are already growing in popularity. Our search differs in that it might recommend a song that was just uploaded last night by a small bar band in Boise, Idaho. Our search has no bias, making it possible to find truly new and unheard music."
NewTunes is also unlike any other online music service in that it offers users the MusicStreaker, an online music game that tests fan music knowledge and awards points for free music downloads. While fans earn points good for free music downloads, each question they answer improves the search engine interface, making it easier to find new songs accurately. In addition to earning points while playing MusicStreaker, fans can get points by creating profiles, interacting with other fans and artists, and by finding and downloading music on NewTunes' expansive catalog of music, which grows every day as artists load new music to sell through NewTunes. (musicstreaker page)
NewTunes robust music catalogue includes signed and unsigned artists; new songs are added as artists create profiles and upload music directly into the service for fans to preview for free. Fans can connect with other fans on NewTunes' social network, and can also reach out to artists. Artists can use the site to meet new fans, sell and increase awareness of their music through the social network as well. In addition, new artists on NewTunes are regularly promoted through its blog (NewTunes Blog).
"The music industry is broken," says Jon Friesch, vice president of marketing for NewTunes. "The record labels are still trying to be the hit makers. Our site creates a free market where the fan has an equal opportunity to discover any band who submits music to us. This helps the labels because they can see where the fans are gravitating and make decisions accordingly."
About NewTunes
NewTunes is an online music service, search engine and community where fans and artists connect to buy and sell music. By combining the technology of algorithms and waveform analysis with organic user input, NewTunes allows fans to find new music based on the music they like quickly and easily. Users can earn free music by playing the MusicStreaker game, creating profiles, downloading music and connecting with artists, which allows music lovers to earn free music while doing what they love doing most -- finding new music online. For more information visit NewTunes.com.
# # #