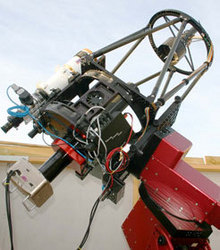 GRAS does everything it says on the tin and is backed by lightning speed technical support.
Fountain Valley, CA (PRWEB) August 11, 2008
Today, due to dramatic public interest, GRAS announced another extension of the exciting free, special offer. Anyone, with an Internet connected computer, located anywhere on the Earth, will be granted free access to a GRAS remote Telescope. This robotic astronomical ground-based, Hubble-space-telescope-like system, designated as G13, is located in Australia.
Designed for ease of operation, even a child with little or no previous experience can take command of the controls of this ground-based remote astronomical telescope system. All GRAS remote telescope systems operate in a very similar concept to the Hubble space telescope, with the notable exception that these system are ground based.
The elegant interface and simple to use controls will simply amaze visiting imagers. Those that take advantage of this free offer will be able to take personal control of the telescope system and capture their own deep space images. This is a special limited offer that may expire at any time. Please be sure to check the time in Australia prior to beginning your imaging sessions. G13 will only operate correctly when it is dark and with weather permitting.
To gain a greater insight as to how the GRAS remote astronomy network functions please click on the following link: GRAS Global Network Gateway. The GRAS information Center is the gateway to the entire network and also provides access to many other functions of the global network.
GRAS is the world's premiere Global Telescope Network. The network provides access to some of the highest-quality, professional-grade scientific and imaging systems available today.
GRAS subscribers have been deeply engaged in deep-space imaging, narrow-band deep-space imaging, research in areas like, asteroids, double-stars, variable stars, exoplanets, nova search, cannibalistic galaxies, gamma ray busters and comets.
Many subscribers have published their own papers on their respective research. Guided by our own research based support teams, GRAS members have collectively contributed thousands of observations to the many science information repositories around the globe.
When asked about their recent experience with G13, here are a few comments from some recent users:
Graham Boots had this to say, "I congratulate you and your team on putting together such a marvelously thought through project. I am currently going through the tutorials and will make use of the facilities when ready."
Boots added, "My colleague and I have just used our fourth a final 30 minute session on the Faulkes North and South robotic telescopes. We began in October 2005. Due to all their problems and despite making 22 bookings, most of which had to be recredited due to telescope faults, in particular the poor quality new CCD cameras, it has taken us almost three years to use up these four sessions. Out of the 22 sessions only 7 did not take place due to the weather. To begin with, in July 2005 the facility was excellent but once the CCD cameras were changed, it was all down hill; even now things are not so good as they once were. There has been management changes but it has not help much. I think schools in the UK have just about given them up."
Graham also commented, "My impression so far with GRAS is very encouraging and I look forward to a an exciting relationship which I hope will develop over the years. Thank you."
Concluding with, "Please feel free to use this email on your site as you see fit."
Graham also added, "Best Wishes, Graham"
Àlex Alegret from Spain had this to say, "Here is my comment, I don't have any problem if you need to use my name, please correct any orthographic and/or grammatical fault."
"Thanks to let us enjoy of this unique opportunity to use professional astrophotography equipment. I am a beginner in this world and I know how difficult it is to get pictures from the night sky, with GRAS I have been able to get high quality pictures with only a pair of mouse clicks," regards, Àlex Alegret, La Garriga - Catalonia.
Ric Thiem commented, "I live in Albuquerque NM about 100 miles from incredible dark skies and have been doing AP since 1996 as a hobby but this means moving many hundreds of pounds of equipment to those skies and hoping the weather is still good when I get there. Spending many hours packing the truck and trailer and spending $150 on gas and more on camping supplies; renders this to a 3 or 4 day trip with loss from work. So to be able to use world class equipment under world class skies while sitting at my desk, in my robe, on Sunday morning is just mind boggling. Thank You," Ric Thiem.
"Love it!" Ken Gray stated. "Made me go out and buy my own telescope. I will be learning the ropes of astrophotography and having fun with my small refractor and DSLR setup."
Gray added, "And then after that, come back to use the GRAS telescopes hopefully with more skills."
Mark Zaslove commented, "I enjoyed using GRAS, as I'm traveling quite a bit and have no way to image (and it's become an addiction)." Mark continued, "At first, there were some difficulties with using GRAS, but the customer response was first-rate, and I was given extra minutes in compensation. After that, I took some nice pictures which I was able to manipulate in MaxIm and Photoshop."
Zaslove concluded with, "Much fun. I am looking forward in the future to doing some narrow band imaging on your scopes until such a time as I can settle down and set up a permanent observatory of my own."
Finally, Gary Ligget said the following, "The global network of GRAS of telescopes is world class in every respect. My first experience of the G13 telescope in South Australia produced an awe-inspiring image of the Triffid Nebula." Ligget ended his comment with, "GRAS does everything it says on the tin and is backed by lightning speed technical support."
GRAS...for drivers, not passengers!
###