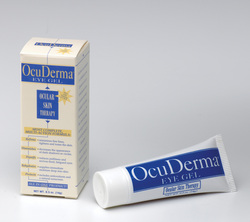 As an Optometrist, I recommend OcuDerma to my patients because it has mild exfoliants, moisturizing agents, antioxidants, and a UV protectant; all in a oil-free formulation --- complete care in one product! Kathryn Reynolds, O.D
Saint Louis (PRWEB) March 18, 2010
MediNiche, Inc., a St. Louis, Missouri pharmaceutical company, has announced a free consumer product offer for http://www.mediniche.com/ocuderma.html [OcuDerma®, ocular skin therapy gel, the #1 eye doctor recommended skincare product for the area around the eyes.
MediNiche is offering consumers a free tube of OcuDerma® for the cost of shipping and handling only --- a $17 value for just $5.99. Consumers will receive a 0.5 oz. tube (regular trade package) along with product information. The offer is valid for new customers only and good while supplies last.
Consumers can visit the http://www.mediniche.com/freeocuderma.html [http://www.mediniche.com/freeocuderma.html [Free OcuDerma® Offer webpage, send an email request to ocuderma@mediniche.com, fax their request or call, toll-free, 1-888-325-2395 to order.
Introduced by MediNiche in 1996, OcuDerma has grown to become the leading brand in optical shops for helping to keep the the skin around the eyes healthy. The product formulation contains a mild exfoliating group of alpha-hydroxy acids (AHA's) to help minimize the appearance of fine lines, depuffing ingredients including herbal extracts that act to help reduce puffiness, swelling, dark circles or shadows, flower extracts to help tighten, tone and refirm the skin around the eyes, technologically advanced moisturizers and liposomes to help rehydrate the skin, and vitamins and antioxidants to nourish and protect the skin. These ingredients act together to help the skin around the eyes feel better and look younger. OcuDerma is the "most complete" multi-action formula product for the skin around the eyes because it provides these actions…all in one product!
OcuDerma has become an integral part of ocular skincare for thousands of eyecare patients. Historically, patients repurchase the product at an impressive rate; over 80% of those making an initial purchase make an additional purchase. OcuDerma has also developed a strong "word of mouth" following; as patients pass along positive product experiences to family and friends. According to Samuel Alioto, MediNiche President and CEO, OcuDerma sales and information requests have escalated to a point where additional support is warranted, "Eye care professionals and patients have provided extremely positive feedback on their OcuDerma experiences. It is now time to spread the word to consumers everywhere".
Key reasons eye care professionals recommend OcuDerma® include:

ideal for contact lens patients; will not cloud the lens like most skin creams, and disperses immediately
should it accidentally enter the eye.

excellent choice for any patient that wants to maintain a healthy appearance of the skin around the eyes;
minimize the appearance of fine lines, help reduce dark shadows/circles, tone, moisturize, and protect
the skin from free radical and UV damage.

good for helping skin that is exposed to dry climates or winter conditions.
helpful for allergy patients that rub and irritate the skin around the eyes.
appropriate for patients that have had skin resurfacing procedures who require long term post operative skincare.
does not contain fragrances, artificial dyes, sensitizers, allergens or pore-clogging agents.
reasonably priced
MediNiche has also prepared for the increased OcuDerma promotional activity and Free Consumer Offer by adding a dedicated webpage at Free OcuDerma® Offer, and added customer service support. A toll-free telephone number, 1-888-325-2395 and a dedicated email address have been added to accept orders and help improve overall consumer communication.
MediNiche: Innovative Products for Professional Recommendation
MediNiche, Inc. (http://www.mediniche.com) is a St. Louis based pharmaceutical company that develops, markets and distributes vision care, dermatologic, obstetric/gynecologic, internal medicine, orthopedic, and dental products. MediNiche markets OCUDERMA®, ocular skin therapy gel, and ORTHO.TABS®, vitamin and mineral supplement for bone health, DENTAPLEX®, vitamin and mineral supplement for oral health, D-PSORIA®, cosmeceuticals for severe skin conditions, UROVITE®, dietary supplement for prostate health, VIVA-DROPS®, preservative-free lubricant eye drops, TRANSITIA®, dietary supplement to help transition through hormonal change and VASOVITE®, dietary supplement for vascular health. MediNiche is pursuing additional new products through internal development, partnerships and collaborations.
###