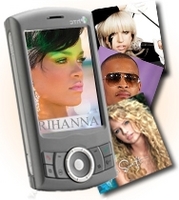 Wilmington, DE (PRWEB) August 19, 2009
The great world of web holds a lot to attract the attention of those who wish to spend their time online; happily. Whether it is playing online games or downloading free ringtones or the latest stuff for their mobile phones web has always something new and exciting which compels people from all the regions and ages to pay regular visits.
Agorics is not a new name in the domain of online entertainment. It has been pleasing masses since it appeared on the horizons of World Wide Web with its beguiling features. The recent redesign of the site is likely to appeal a lot more visitors as to make their stay more pleasing it has been made very easy to find the required stuff.
The site is rearticulated in a rhythmic way and is capable of catching the attention of visitors forcing them to stay at portal for long and compelling them to visit again. Agorics offers a set of entertainment options like free ringtones, wallpapers, screen savers, themes, videos, online games and even an online community – the greatest attraction for most of the teens these days that allows them to make new friends, gossip and share all the things and stuff they are up to.
The redesigned portal categorizes the services Agorics offers under different tabs with the most visited and most popular material to be found at the home page so as to keep the visitors updated with the latest mobile stuff. At the same time other stuff that they want to search is just a click away. Not only they get the view of all domains of entertainment the site has to offer (ringtones, screensavers, themes, games, the make option – which allows users to make voice tones, ring tones, themes, wallpapers, screensavers and videos, and the online community) but also a drop down menu for each service lists all the further categories.
The site is redesigned in a way that if it is the ringtone that has brought a particular user to Agorics then it is not only a plethora of ringtones that he will have to go through in order to reach the desired ringtone. Just for reference, look at the categories; top ringtones, latest ringtones, carrier ringtones, most downloaded ringtones with a further list of categories classified on the basis of country, film and TV and music genres (Classical, Electronic, Rap/Hip Hop, Jazz, Latin, Pop and Rock etc.). Still there are others as humorous ringtones, message ringtones, dance ringtones and world ringtones.
To make the experience more rewarding Agorics has added the help categories like ringtone help, wallpaper help, themes help, screen savers help and videos help. The newly designed portal has same set of exciting features with a more plausible and pleasing look to entertain all the senses of the visitors and engage and indulge them in the Agorics experience.
See also: Free Ringtones For Verizon, Free Ringtones For Sprint, Free Ringtones For Alltel, Free Ringtones For T-Mobile and Free Ringtones For AT&T
###