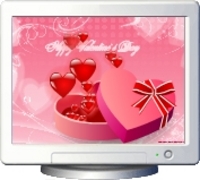 (PRWEB) February 10, 2010
NewFreeScreensavers.com, a Web site with a large collection of free screensavers, announces the release of a new selection of Saint Valentine's Day-themed screensavers. All offerings in this new line-up of Valentine's-themed screensavers are sure to create a magical atmosphere on this, the most romantic day of the year.
Saint Valentine's Day is the traditional day on which lovers express their love for each other by sending Valentine's cards, presenting flowers or offering confectionaries. To celebrate this occasion, Newfreescreensavers.com offers free Saint Valentine's Day screensavers for those who are in love. One of the new beautiful free screensavers features hearts flying out a pink box adorned with a red bow, a design to festively decorate any desktop and make anyone feel the love in the air.
NewFreeScreensavers.com is also offering users the ability to download free screensavers from its set of screensavers called I LOVE U. Both new sets of free screensavers include digital clock screensavers showing the local time. Those who prefer to see a digital clock on their monitors but who want to get into the holiday spirit may download special clocks featuring big numbers jewelled with sparkling crystals.
Friends can also get into the spirit of Valentine's Day by downloading and installing the Saint Valentine's Day or I LOVE U screensavers from http://www.newfreescreensavers.com to another person's PC as a pretty surprise. All users can be assured that the screensavers won't harm any PC, as they contain no spyware or adware and are virus-free.
NewFreeScreensavers.com plans to release screensavers for every holiday and make them available for free download. In addition to containing no spyware, adware or viruses, free screensavers from NewFreeScreensavers.com work on any version of Windows, from XP to Windows 7. The downloads are typically small and take only moments to install -- people can start using them right away with minimal hassle.
About NewFreeScreensavers.com
NewFreeScreensavers.com offers a collection of completely free screensavers and features a tips and tricks section about screensavers, screensaver reviews and a blog. To download a safe free screensaver, and to learn about the best screensaver available, visit http://www.newfreescreensavers.com/the-best-free-screensaver.html.
Contact:
Irina Sidorova
is(at)newfreescreensavers(dot)com
# # #