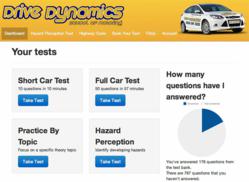 Simon Lee, Drive Dynamics Manager, quotes "We are delighted to be able to provide our driving instructors and pupils with such an outstanding online Theory test system"
United Kingdom (PRWEB UK) 3 April 2013
Unlimited access to the online software is provided upon booking driving lessons with one of the local Drive Dynamics driving instructors and from there new learners are able to practice theory & hazard perception tests repeatedly in the same format that is used by the Official Theory Test licensed by the DSA, the Driving Standards Agency, who set the actual test.
Included with this new system is an online version of the Highway Code which will assist with all the rules of the road, video simulations of Hazard Perception scenarios to spot the dangers in, some of which are the licensed clips from the DSA site, and online access to test banks of 963 test questions. Any learners who may be dyslexic or have trouble reading, there is also text to speech enabled tests to allow them to listen to the questions and answer accordingly. It also has a translation machine for conversion to over 40 different languages. It has adaptive learning features that provides study programmes to further the learners development.
Free Theory Test Online - http://www.drive-dynamics.co.uk/free-theory-test/
Free Hazard Perception Test Online - http://www.drive-dynamics.co.uk/free-hazard-perception-test/
Learners are not able to take their Practical driving test unless they have passed the Theory test, so it is important they get as much information as they can. They must be prepared for the Theory as soon as possible, which is where online access such as this can be a great asset. Plus, the added bonus is that Drive Dynamics truly is offering unlimited access!
Again booking driving lessons with Drive Dynamics, enables new learners to access the online application from where they can practice as much as they want on the Theory test. It is set up like the actual test and they can work their way through the 963 questions as the questions would appear in the test centre, choosing their answer carefully from the multiple choices given. Then once they have finished that section, they will carry on to the Hazard Perception section, where they will see single and dual video clips and have to indicate as many hazards as they can see. However, they should not just click randomly anywhere, as they can lose points doing so. At the end of each test practice, they will have a report on their progress, and they will know if they need to work on any specific areas more than others. Drive Dynamics driving instructors will also have access to their pupils reported results and they will know what areas they need to teach more about so that their pupils have an excellent opportunity to pass Official Theory Test, when the time comes.
Modern technology certainly gives potential drivers more opportunity to learn about the Theory Test and practice throughout the day, than the old days when they simply read the Highway Code! This new online Theory and Hazard Perception support software is updated regularly to keep up with any changes by the DSA and will be valid for tests taken up to December 2013, and pupils can practice whenever they have a spare moment to, which will give the best chance to be successful first time.
Drive Dynamics reported they now have just over 400 driving instructors, grade 4-6, providing driving lessons all over the UK including major cities such as Manchester, Birmingham, London, Leeds and many more.
Drive Dynamics - The UK's National Driving School
Registered Office:
11-13 Kings Street,
Drighlington,
Bradford,
BD11 1AA.
Business Email ID: Info(at)drive-dynamics(dot)co(dot)uk
Valid Phone Numbers: 03333 01 3333