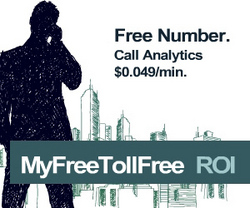 Victor, ID (PRWEB) September 16, 2009
Myfreetollfree.com lets everyone enjoy the benefit of a toll-free number, while only paying for what they use. There are no monthly minimums. Simply pay for what you use at a flat rate of $.049 per minute nationwide.
"We've seen a lot of services out there, but none as simple and affordable as this.
Everyone has become more aware of the costs associated with running a business, small or large. We want to help both people by providing a service that helps track ROI from various advertising campaigns and media buys." says Lance Pitman, Manager of Myfreetollfree.com.
Myfreetollfree.com gives customers their choice of 800, 888, 877, or 866 numbers that can be forwarded to any telephone number. Customers also gain access to a simple to use ROI dashboard that displays data about the calls coming into each line that the user assigns to track advertising leads.
For more information, visit our website, myfreetollfree.com.
# # #