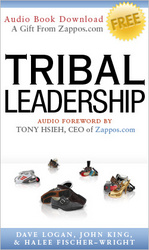 At Zappos, our number one focus is on company culture. We believe if we get that right, most of the other stuff, like great customer service and an enduring brand, will happen naturally on its own
Henderson, Nevada (PRWEB) October 28, 2008
Leading online retailer Zappos.com, widely heralded for a near-fanatical customer service approach rooted in a dynamic company culture, and the authors of the groundbreaking, Tribal Leadership: Leveraging Natural Groups to Build a Thriving Organization, have teamed up to make a free audio version of the popular 2008 business title available at Zappos.com: http://www.zappos.com/tribal.zhtml. The philosophy outlined in Tribal Leadership mirrors many of the steps Zappos intuitively took to build its own high-performance company culture, according to Zappos.com CEO Tony Hsieh, and now the e-tailer wants to help others interested in achieving the same goal. This is the first time a major business title has been released as a free audio download.
After a rigorous 10-year study of approximately 24,000 people in more than two dozen companies, the authors of Tribal Leadership have concluded that the success of a company depends on its tribes - groups of 20 to 150 people that come together on their own rather than through management, and that these key leverage points are more powerful than teams, companies or even CEOs.
The free audio book includes a special foreword featuring Zappos.com CEO Tony Hsieh, whose company was recently named "Best Place to Work" in the large company category by the Southern Nevada Human Resources Association and was profiled on CBS's 60 Minutes, ABC News Nightline, CNN, CNBC, and The Oprah Winfrey Show, and co-author Dave Logan, who also teaches his leadership philosophy as part of the Executive MBA Program at the University of Southern California (USC) Marshall School of Business.
"At Zappos, our number one focus is on company culture. We believe if we get that right, most of the other stuff, like great customer service and an enduring brand, will happen naturally on its own," says Hsieh. "We'd be thrilled if free access to the audio version of Tribal Leadership on our site encourages others within organizations to focus on attaining great cultures as well. Ultimately, everyone benefits from a happier, more energized, more satisfied and more productive workforce."
To receive the free audio book version of Tribal Leadership, visit Zappos.com at http://www.zappos.com/tribal.zhtml
About Tribal Leadership
In Tribal Leadership, Dave Logan, John King and Halee Fischer-Wright refine and define a common theme: the success of a company depends on its tribes, the strength of its tribes is determined by the tribal culture, and a thriving corporate culture can be established by an effective tribal leader. The authors show leaders how to assess their organization's tribal culture on a scale from one to five and then implement specific tools to elevate the stage to the next. The result is unprecedented success.
Tribal Leadership shows leaders how to employ their companies' tribes to maximize productivity and profit: the authors' research, backed up with interviews ranging from Brian France (CEO of NASCAR) to "Dilbert" creator Scott Adams, shows that more than three quarters of the organizations they've studied have tribal cultures that are merely adequate, no better than the third of five tribal stages. The often counterintuitive findings of Tribal Leadership will help leaders at today's major corporations, small businesses, and nonprofits learn how to take the people in their organization from adequate to outstanding, to discover the secrets that have led the highest-level tribes to remarkable heights, and to find new ways to succeed where others have failed.
About Zappos.com
Established in 1999, http://www.zappos.com has quickly become one of the leaders in online shoe and handbag sales by striving to provide shoppers with the best possible service and selection. Zappos.com currently stocks more than 4 million shoes, handbags, apparel items and accessories from over 1,000 brands. Zappos.com has appeared in Inc. Magazine's annual list of the 500 fastest-growing private companies in the U.S for four years in a row (2004, 2005, 2006, 2007), with gross merchandise sales of over $800 million in 2007. The company was named "Best of the Web" for 2006 by Internet Retailer, and was included in Time Magazine's "25 Sites You Can't Live Without." The Zappos.com Customer Loyalty Team is available 24/7, 365 days a year. Zappos.com is "Powered by Service."
# # #