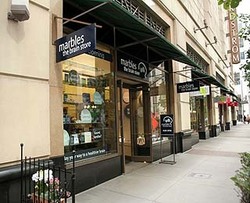 The Brain Games and Challenges section of our website will be chock full of really challenging riddles and brain teasers. Whether you are an avid puzzler looking for something new, or a novice just entering the world of brain fitness, this is a way to sample different brain boosting games and puzzles
Chicago, IL (PRWEB) September 15, 2009
Marbles: The Brain Store today announced the launch of a new area on its website (http://marblesthebrainstore.com/braingames.html ) featuring brain teasers and riddles, trivia, and free printable word puzzles for adults and the whole family, with the goal of helping its customers improve their brain fitness and brain health.
The Marbles website offers a wide range of fun and educational mind-enhancing products and tools for all ages, including word puzzles, brain teasers, educational games, and brain fitness software, which result in enhanced memory, critical thinking, coordination, visual perception and word skills. Besides a free Brain Health Barometer, designed to help identify risk factors for Alzheimer's and dementia, the company's website also offers free brain tips, brain teasers, and other brain training exercises.
"Research shows that the brain can actually regenerate new brain cells throughout life when given the right stimulation," said Marbles: The Brain Store CEO Lindsay Gaskins.
"At Marbles, we try and encourage brain stimulation through fun and engaging activities, and we hope that by offering free brain teasers, trivia questions, and printable word puzzles on our website, we will be encouraging our customers to take an active role in their brain fitness in a way that's genuinely entertaining."
The Marbles Brain Games and Challenges section will feature a regularly updated sample of mind-boggling riddles, brain teasers and printable word puzzles from the Marbles collection. Users can work on the games directly on the website or take the printable puzzles with them wherever they go.
Besides its website, Marbles also currently operates three retail locations in the Chicago area. Located at 55 East Grand Avenue in downtown Chicago, at the Westfield Old Orchard Shopping Center in Skokie, Illinois, and in the heart of the Lincoln Square neighborhood, Marbles: The Brain Store offers over 250 products designed to stimulate and strengthen the brain and promote brain fitness. They also hold community events such as game nights for adults, Blink tournaments, crossword puzzle tournaments, brain health speakers and more.
"The Brain Games and Challenges section of our website will be chock full of really challenging riddles and brain teasers. Whether you are an avid puzzler looking for something new, or a novice just entering the world of brain fitness, this is a way to sample different brain boosting games and puzzles," said Gaskins.
About Marbles: The Brain Store
Marbles: The Brain Store is a first-of-its-kind retail concept and online destination that focuses on products designed to stimulate and strengthen the brain. Marbles: The Brain Store was created by two Chicago entrepreneurs who, after hearing their parents express concern about Alzheimer's and dementia, were inspired to provide a place where people can find new, engaging activities to keep their brains active and also learn about the brain. From self-improvement software like the Posit Science Brain Fitness Program to therapeutic toys like Tangle Therapy and competitive games like Blink, Marbles: The Brain Store offers over 250 products designed to enhance cognition. Visit Marbles: The Brain Store online at http://www.marblesthebrainstore.com.
###