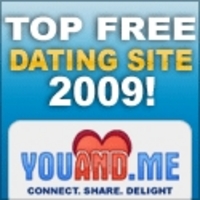 I never post and tell
(PRWEB) March 25, 2009
Copenhagen -- YOUAND.ME launched this past Valentine's Day, the YOUAND.ME free dating site has grown beyond the dreams of its founders and world-class development team with over 60,000 page views per day. In the spirit of a start-up founded in a garage, http://www.Youand.Me was founded in the domains (that is, homes) of its founders and team which span the globe (USA, Canada, Europe, and India).
What began as a joke for starting a completely free online dating site: to find a girlfriend for its founder and president Steven Sikes (the hopelessly romantic dreamer) has become a passion and thrill for the friends who are part of the stellar and eccentric YOUAND.ME team. With close to 20,000 members (and growing by 700 members and over 60,000 page views per day), YOUAND.ME is becoming a very popular dating site for people worldwide to make connections and search for soul mates or love partners.
However, YOUAND.ME has evolved into more than a free dating site. It has widgets, games, personality tests, and one game called PERSANIMAL which combines animal and personal traits to help you discover the real inner YOU. With monkey howls and lion roars, it's a real hoot for animals and even the human kind.
At http://www.YOUAND.ME members can post photos, music, blogs and forum entries, videos and there's even video chat, IM, mail, digital greetings and cards, and a 3D chat room where members can participate in "virtual dating". Members can rate dates based on accuracy and honesty after their initial encounters or hookups and they can designate guardians for safer dating.
YOUAND.ME is perhaps the first "Social Connect" site on the web, a cool place that combines online dating, social utility with widgets, social networking, microblogging, and Social Media 2.0. The site YOUAND.ME has a video on YOU TUBE with over 300,000 views, another vibrant one with almost 50,000 views, and the zany YOUAND.ME founders claim several innovative widgets are in the works, as well as a YOUAND.ME mobile free dating site which will launch in April with several mobile-e-ccentric features, including compatible local search.
According to its dateless founder Steven Sikes, "YOUAND.ME is a site that welcomes its members to connect, rant, rave, enlighten and get down and personal, speak their minds and reflect their creative juices and driving desires. We wanted to create a unique place at YOUAND.ME, a kind of lounge, café, a virtual everywhere anywhere to share, connect, and find your bliss or nirvana." OK, and now maybe we know why this founder is, like, dateless. Too much, like, "nirvana" on the brain?
So has the dateless founder had any luck on the YOUAND.ME dating site? "I never post and tell", claims Steven Sikes, "but when I greet new female members and welcome them to the site, they usually ask for my pix, which I have to pass." And that's a good thing for him. Photos of the YOUAND.ME dateless founder, according to the new facial recognition software, which will appear on the YOUAND.ME site, won't fulfill the initial reason for starting the site - finding the dateless founder a girlfriend. In fact, it would most likely hurt the cause.
But that's OK for YOUAND.ME, as the founders have their sights set on something bigger - a "Social Connect" site that will rock your world and become one of the hottest sites for the YOU and ME generation to hangout and do your and our things - no questions asked!
If the YOUAND.ME site becomes wildly successful and surpasses sites like Facebook or MySpace in popularity, maybe even its dateless founder will get a girlfriend one day. OK, maybe that's being a little too ambitious with regard to the girlfriend thing, and of course, the disclaimer here is "maybe". But for now, YOUAND.ME rocks on and pushes the boundaries of love, romance, play, and creative expression. One thing's for certain: YOU AND ME and even HE (the dateless founder) can start "social connecting" after logging onto the YOUAND.ME site!
In April, http://www.YOUAND.ME plans to launch a contest for female members to win a date with its dateless founder. Causes like this reflect the charitable mission of YOUAND.ME, and shows how YOUANDME will do everything possible to connect anyone and everyone - despite the barriers and challenges of any of its fantastic members and "dateless founder". The contest is fairly easy. To qualify for the contest, female members just have to click the YOUAND.ME Charity Box. Even the losers - especially in a contest like this - are YOUAND.ME winners!
Contact Helle Staal
Intermedia APS for Youand.Me
004521734073
###