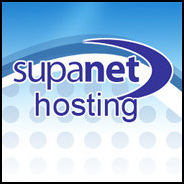 This offer was already a great success and by offering our UK customers a free .com domain we expect it to be in even greater demand. I strongly recommend anybody who wants to take advantage of the fantastic offer with the free .com domain to sign up as soon as possible
Burnley, Lancashire (PRWEB) July 2, 2007
Supanet Hosting has taken the decision to offer a free .com domain name to every UK customer who signs up to the web host provider's 12 months free hosting packages.
This follows the popularity of the free .com domain name offer with the company's international customers.
As part of this offer UK customers who decide to take advantage of Supanet Hosting's fantastic 12 months free hosting service can now choose either a free .co.uk or .com domain name.
Sam Benson, Marketing Manager for Supanet Hosting, said: "We have always been committed to offering the best possible hosting service to our customers and we see offering a free .com domain name to our UK customers a the next logical step."
Since it was launched to UK customers in April the 12 months free hosting package has proven a massive success.
It was so popular that the initial allocation of packages was snapped so quickly that Supanet Hosting extended the offer by a further 1,000.
When the offer was made available to international customers the demand was once again phenomenal and only limited numbers of both the international and UK offers remain.
"This offer was already a great success and by offering our UK customers a free .com domain we expect it to be in even greater demand. I strongly recommend anybody who wants to take advantage of the fantastic offer with the free .com domain to sign up as soon as possible," Benson added.
The 12 month free hosting offer was launched by Supanet Hosting to celebrate the company being awarded Hostreview.com's fastest growing hosting company award.
Some of Supanet's most exciting and innovative offers are also included so customers will also receive a free fax2mail number, £50 of free search engine ads, a £30 Time UK voucher and unlimited web space.
To find out more about the 12 months free hosting offer please click here.
About Supanet
Supanet has provided internet access and a range of other services to UK customers since 1998. The company prides itself on continuing to lead the market with exciting and innovative offers.
The Supanet portal offers free, quality content, with services including free webmail, SMS services and comprehensive online help. Commercial partnerships with, among others, Ask, MIVA, MoneySupermarket and uSwitch provide valued services for visitors to the site.
About Supanet Hosting
Supanet has one of the best-connected hosting facilities in the world, and have invested a great deal in both network equipment and backbone connections so customers get the fastest access possible to their content. This efficient infrastructure means that Supanet can offer its customers a great-value, high-quality service.
# # #