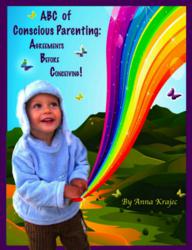 As the inspiration to write this book was given to me on Thanksgiving day, I am thankful for the insight I've been given and share it with you through this free ebook download in hopes of creating a more harmonious, peaceful world."
(PRWEB) November 22, 2012
In the spirit of giving and thanks, author Anna Krajec is sharing her book "ABC of Conscious Parenting: Agreements Before Conceiving" through a free download at http://www.abcofconsciousparenting.com on Thanksgiving day and through the weekend, ending November 25th.
This book is a collection of 108 agreements, along with corresponding questions for prospective parents to ask themselves and discuss with their partner before (and after) conceiving a child.
Writing the book was influenced by Anna's late son, Christofer, who through the spiritual connection she still feels with him today, inspired her with the 108 agreements, Thanksgiving 2008, just a few months after his passing.
"When Christofer was physically with us he was such a gift to me and all those who met him. He taught me so much and continues to teach me to this day. I am so very grateful for him, our continued spiritual connection and for this gift he has brought to our world. It is my hope that all children are conceived consciously and raised in peaceful homes." said Anna.
Each chapter of the book includes authentic sharing of the trials and tribulations that Anna's family encountered, including the illness, death, and continued guidance of her son.
Children raised harmoniously can become outstanding parents themselves and ultimately help provide peaceful leadership to our world. It is the author's intention to help parents and children with this process.
As a gift to all those who are raising children or thinking of raising children the book is available as a free download Thanksgiving day and through the weekend (11/22 - 11/25) at http://www.ABCofConsciousParenting.com