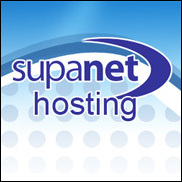 By signing up for the £50 free voucher you could start your new website with a big advantage over the competition.
(PRWEB) January 23, 2007
Supanet.com, the Broadband ISP, is offering £50 of free Pay-Per-Click advertising to all web hosting customers.
The company is offering this new deal through Supanet Hosting, the UK web hosting division of Supanet.com. Every customer who signs up for a paid hosting account will receive a £50 voucher to spend marketing their site through MIVA Pay-Per-Click advertising.
Andrew Barton, Marketing Manager for Supanet, said: "Creating your own website is the easy part. Getting people to look at it is the thing that many people find the most difficult, but Supanet Hosting now offer a solution that will drive traffic to your new site.
"The advantage of using good advertising is that you can increase the volume of targeted leads - which means that the people who click on your adverts are the people you want to be looking at your site.
"By signing up for the £50 free voucher you could start your new website with a big advantage over the competition."
MIVA delivers over 2,000 targeted leads every minute and the adverts are displayed across a network of thousands of websites. The keyword bidding system ensures that adverts will only be displayed alongside relevant content.
Barton continued: "We also offer a 'try before you buy' scheme. Some customers want to be sure that we are the right hosting company for them before they have to dig into their pockets, so we offer them a no obligation 90-day free hosting trial.
"As a company we pride ourselves on offering that little bit more. As well as the free trial and the £50 MIVA voucher we also give a free domain name with all paid hosting packages and give everybody who joins Supanet Hosting entry into a draw to win an LCD TV."
Supanet has provided internet access and a range of other services to UK customers since 1998. The company prides itself on continuing to lead the market with exciting and innovative offers.
The Supanet portal offers free, quality content, with services including free webmail, SMS services and comprehensive online help. Commercial partnerships with, among others, Ask, Miva, MoneySupermarket and uSwitch provide valued services for visitors to the site.
Supanet has one of the best-connected hosting facilities in the world, and have invested a great deal in both network equipment and backbone connections so customers get the fastest access possible to their content. This efficient infrastructure means that Supanet Hosting can offer its customers a great-value, high-quality service.
###