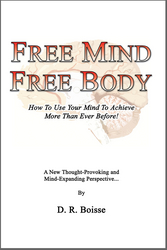 We all have extraordinary potential that we don't even come close to realizing; our minds are capable of much more than we could ever imagine!
Los Angles, CA (PRWEB) August 5, 2008
Inside D. R. Boisse's latest book "Free Mind Free Body" readers are finding common sense applications to life which are not typically applied until noticed and understood. This book has 12 easy-to-read chapters on freeing ourselves from self-imposed prisons, self-discovery, learning how our minds work, internal dialogue and the language we use in our communication with self and others, managing emotions and feelings, the importance of physical fitness, and concludes with encouragement for readers to use these newly learned skills to pursue the life they truly desire.
"D.R. Boisse encourages and empowers readers in his inspiring new book, Free Mind Free Body, provides an in depth insight into freeing your mind while providing quick steps and tips to become a healthier you... Boisse utilizes graphs, illustrations and text boxes to help readers visualize and fully understand the information gathered in the book... Countless readers have testified to the help that Boisse has provided... Free Mind Free Body is a simple read that gives a solid basis of helpful information for practically anyone." -- Vision Magazine, Book Review
"Inspiring, motivating, practical, organized, and effective, 'Free Mind, Free Body' focuses the reader's attention on understanding and emphasizing those functions of the human mind that recognize and promote the positive aspects of life, enable us to identify and learn from weaknesses, and achieve liberation from the domination of negative thoughts and emotions. Thoroughly 'user friendly', 'Free Mind, Free Body' is a welcome and recommended addition to personal self-help, self-improvement reading lists and reference collections." -- Midwest Book Review
"Free Mind Free Body" is a motivational and inspirational book that empowers readers with concepts designed to release their innate abilities while helping them to transcend negative self-limitation. While absorbing and integrating key concepts, readers will learn how to rid their minds and bodies of destructive thoughts, habits, and emotions.
"I truly believe readers have far more potential than they have ever recognized," Boisse says. "We all have extraordinary potential that we don't even come close to realizing; our minds are capable of much more than we could ever imagine!"
Free Mind Free Body in paperback from publisher New Time Unlimited (also on Amazon.com, etc.) and as eBook immediate download available from many online retailers.
About the author:
D. R. Boisse grew up in the small town of Woonsocket, Rhode Island before moving to Los Angeles, California to pursue his career interests. D.R. Boisse has dedicated himself for over 20 years to motivating, empowering and instructing people while they worked toward being their best. He has since himself achieved both Trainer and Master Practitioner Licenses in Neuro-Linguistic Programming, Advanced Personal Trainer certification from the National Academy of Sports Medicine, and both Personal Trainer and Lifestyle and Weight Management certifications from the American Council on Exercise as well as a Black Belt in Kenpo Karate. He has worked with many medical professionals and natural health practitioners in the Los Angeles vicinity promoting self-improvement.

Press & Book Reviewers -- complimentary copies of "Free Mind Free Body" are available for review purposes from New Time Unlimited contact the publisher for consideration: ops(at)NewTimeUnlimited.com
About the book:
Free Mind, Free Body by D.R. Boisse
Paperback ISBN: 9780981615400
eBook ISBN: 9780981615417
Publisher: New Time Unlimited
Published: March 2008
Pages: 168
S.R.P.: $19.95
###