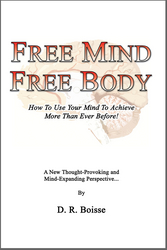 I chose the title 'Free Mind Free Body' for my book because of the natural fit with my work, which has no relation to Scientology or any one religion
Beverly Hills, CA (PRWEB) January 28, 2008
The new book "Free Mind Free Body" has no Scientology connection at all, according to author D. R. Boisse.
Apparently Boisse's book "Free Mind Free Body" sounds similar only in name to a book by the Church of Scientology titled "Clear Body, Clear Mind" that is credited to L. Ron Hubbard.
Boisse stated that he is not a Scientologist, and has never been involved with the Church of Scientology nor taken its courses; however he certainly respects ones right to freedom of religion and chosen beliefs. "I chose the title 'Free Mind Free Body' for my book because of the natural fit with my work, which has no relation to Scientology or any one religion," says author D. R. Boisse.
Positive thoughts and good feelings create happiness, according to D.R. Boisse's new book "Free Mind, Free Body." Boisse believes how you think and feel is up to you, and you are the one who is in charge of your mind.
"Free Mind, Free Body" helps create a proactive plan in the pursuit of healthy lifestyles. The book encourages readers to focus on the positive aspects of life, while learning from and growing on possible weaknesses. Through the simple step-by-step guide, Boisse assists readers in connecting with the essential, yet often overlooked, functions of the mind.
"Free Mind, Free Body" is available in softcover (ISBN 978-1-60264-034-4) from Virtualbookworm.com, Amazon.com and numerous other online booksellers and local bookstores throughout the United States and worldwide.
About D.R. Boisse
D.R. Boisse has dedicated himself to motivating, empowering, and instructing people while they work toward being their best. For over eight years, he owned and operated a successful personal training and consulting business, "The Way to Fitness" and also operated three popular web sites. He has since himself achieved both Trainer and Master Practitioner Licenses in Neuro-Linguistic Programming, Advanced Personal Trainer certification from the National Academy of Sports Medicine, and both Personal Trainer and Lifestyle and Weight Management certifications from the American Council on Exercise and a Black Belt in Kenpo Karate. He has worked with many medical professionals and natural health practitioners in the Los Angeles vicinity promoting self-improvement.
Contact:
D. R. Boisse, Author
818.635.6000
DRBoisse @ FreeMindFreeBody.com
http://www.FreeMindFreeBody.com
http://www.Boisse.org
http://www.FreeMindFreeBody.comhttp://www.FreeMindFreeBody.com
###