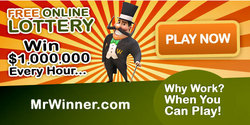 By leveraging our free, hourly sweepstake games and combining it with a social network, we maximize interaction with our customers and create new branding opportunities for our advertisers
Dover, DE (PRWEB) June 2, 2008
MrWinner.com, Inc. announced the launch of its .Net (beta) online lottery community (http://www.MrWinner.net ) and Sudoku game (powered by Prime Interactive).
"By leveraging our free, hourly sweepstake games and combining it with a social network, we maximize interaction with our customers and create new branding opportunities for our advertisers," said Michael Scutari, Executive President of MrWinner.com.
MrWinner also launched a free Sudoku game on its website (designed by Prime Interactive's Deltazon Division) to give players additional free games and a way to expand the MrWinner brand of free causal gaming. MrWinner plans on designing and building additional games in the future to expand on the gaming niche.
President of Prime Interactive, Inc. Jeff Martin said, "MrWinner is providing an exciting platform for online lottery players where anyone can pick their favorite lottery numbers and have a great time socializing and playing free online games. Prime Interactive is proud to be a part of MrWinner's growth and goal to be the top online lottery sweepstakes on the Internet. For the first time online lottery players can join the MrWinner Network where they can easily create their own personal space including member profiles with photos. Members are able to engage in group discussions, see the latest activities, join forum and blog discussions, share videos and photos, and a lot more online lotto and gaming fun."
About MrWinner.com, Inc.: MrWinner.com, Inc. is the Internet's largest, free, real-time, hourly, promotional game. Internet users can log on to the Internet and register for free for a chance to win $1,000,000 every hour, 24 times a day. MrWinner is the Internet's most dynamic, interactive 2-in-1 entertainment rewards game with a secondary game that guarantees prizes to those who: participate the most, refer friends, and play any of the MrWinner games. MrWinner has also designed a wireless application to accommodate the personal handheld gaming world at: http://www.mrwinner.mobi . The website was launched earlier this year.
For more information on Free Online Lottery Games and Free Online Sweepstakes, visit MrWinner.com.
Contact:
Hoa Bui
Marketing Director
Prime Interactive, Inc.
hoa.bui@PrimeInteractive.com
877-777-4638
###