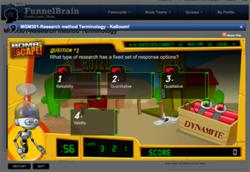 KaBoom! automatically converts any user-generated quiz into an animated question and answer based game.
Calabasas, CA (Vocus/PRWEB) April 06, 2011
FunnelBrain LLC today announced the launch of KaBoom!, a new online learning game for FunnelBrain's online learning community. KaBoom! helps learners of all ages have fun while working together to improve test scores and academic performance. The online learning game, available free of charge on FunnelBrain, automatically converts any user-generated quiz into an animated question and answer based game.
KaBoom! is the latest addition to FunnelBrain's collaborative academic quiz engine announced last month and continues FunnelBrain's efforts to provide enhanced study tools for today's active learners. The game enables learners to practice timed quizzes while promoting comparative and collaborative learning. Students can share scores, challenge friends and accumulate points as they progress through different levels.
"We are focused on providing the most collaborative online learning solutions available," said Joe DeTuno, FunnelBrain CEO. "KaBoom! gives students the ability to create a competitive and highly interactive animated game that enhances the learning experience."
Playing KaBoom! adds a new time dimension to user generated quizzes on FunnelBrain. Players have 60 seconds to answer each question by feeding answers into FunnelBot, a robot with unlimited learning potential. If you don't know the answer before the clock ticks down... KaBoom! and game over.
Here's a chance to give KaBoom! a try. Test your knowledge on important facts about the Japanese nuclear power reactors now in danger.
We also invite you to visit FunnelBrain.com and see the power of collaborative learning first hand. To view a list of existing quizzes or to create your own, visit http://www.funnelbrain.com/quizzes.
About FunnelBrain.com
FunnelBrain is an academic question and answer website that is created, edited, and organized by the students, teachers and life learners who use it. The information is organized into Study Decks and Study Teams that can include all types of rich media such as photos, videos, audio voice recordings and math equations. Users work together to create information for a class, a shared interest or anything they want the world to know about. It's free, it's fun and you'll do better in class. To learn more, please visit http://www.funnelbrain.com.
# # #