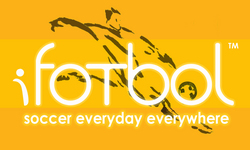 The other thing we've done is make advertising space available on member websites for local sponsors
Ferndale, WA (PRWEB) April 30, 2009
Created by an enthusiastic group of journalists, TV pros, and Internet experts, innovative new website ifotbol.com brings soccer fans the latest game results, news, statistics, photos and videos from various countries around the world, as well as great opportunities to win prizes and more.
Not only can fans get the latest news, match results, player and club profiles, and more, they can also connect with other soccer fans in chat forums and express their views and opinions on what's happening in their part of the world.
In addition to soccer fans, ifotbol.com contains valuable tools specifically designed to benefit local soccer organizations, informal teams, and even official soccer clubs. ifotbol.com is deeply committed to the development of soccer in local communities across the globe and, in turn, helps promote the game at every level.
Whether local coach, amateur player, or simply an invested fan, members can create their own website in their own language. Site content is dictated 100 percent by the user, from the club URL to the template design, to the text. Users have all the functions necessary to manage their group, activate a message board for real-time communication with teammates, post team rosters, and upload photos, videos, player cards, game schedules, and team events. This feature includes free hosting and an easy-to-use WYSIWYG website authoring tool, which allow clubs and teams to be even more effective in managing their groups and training.
Ernest Legrand, CEO of ifotbol.com says that the company is very proud to offer this unique feature to local communities.
"The other thing we've done is make advertising space available on member websites for local sponsors," he says. "And the monetary benefit goes exclusively to users' teams, not to ifotbol.com."
With more than 10,000 player profiles and 350 club profiles with history, stats and rosters, ifotbol.com's humungous database brings all of the world's soccer news into one, easy-to-access website. The one-of-a-kind soccer website also contains access to the 350 Club official websites as well as information on the 60 most important competitions worldwide, including statistics and ranking tables for the Premier League, Liga Championships and Cups, World Cup, Euro, Champions League, and more.
Never before has such a tool been publically offered to soccer fans, says Ernest Legrand, CEO of ifotbol.com.
"For all lovers of the game, it's the one stop shop for everything about the wonderful world of soccer" he says.
And when ifotbol members participate in the interactive "Play to Win" games, they have the chance to win a myriad of different prizes like Wii game consoles and tickets to exhibition games. They also win entries into prize drawings as a result of participation in forums and inviting friends to join ifotbol.com
Ifotbol.com is able to offer features and advanced functions that few other websites have. As one of the only soccer websites with a powerful 3D gallery, ifotbol.com members can find photos and videos in a 3D wall (an experience comparable to iTouch or iPhone). It is also fully compatible with major social networking sites, including Facebook, Myspace, LinkedIn, Twitter, and others, so referring friends couldn't be easier or faster.
For more information, please visit http://www.ifotbol.com.
Media Contact
Pascal Nhon
Tel 914 573 9821
# # #