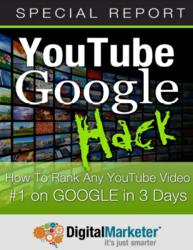 Tapping into one of the largest marketing supply lines ever created is as simple as making a video and posting it.
Austin, TX (PRWEB) April 10, 2012
Marketers can get free targeted traffic to their website for next to nothing by partnering with two of the three biggest websites in the world. Believe it or not, it only takes a few simple steps to have a YouTube video rank number one in Google searches before the end of the week.
Digital Marketer has devised a YouTube marketing plan that promises higher Internet recognition and endless sales channels. The recently published Special Report "YouTube Google Hack: How to Rank Any YouTube Video #1 on Google in Three Days" provides the foolproof guide to creating, submitting, and promoting an online video.
According to the latest DigitalMarketer.com article, a quality video can help generate quality targeted traffic. Some businesses' websites may not have the greatest traffic numbers, but joining forces with two online titans will change that in no time.
Google is the top website in the world and holds more search engine power than any online competitor, the article said. YouTube comes in at third, where average time spent on the site routinely approaches 20 minutes. Those two superpowers combine to create a very strong support system.
YouTube videos are reaching farther and wider than any other method of content creation, the DigitalMarketer.com article added. Tapping into one of the largest marketing supply lines ever created is as simple as making a video and posting it.
"YouTube Google Hack" provides seven steps for creating the perfect YouTube video. It even gives advice on making engaging videos without the luxury of a camera. That's right; engaging YouTube videos don't even need to be recorded, said the article.
The Special Report nails down a video's main purpose, and explains the description and tagging process that will lead interested web searchers to content more efficiently. It also gives four crucial optimization schemes and one priceless backlink trick that no one ever takes advantage of.
The "YouTube Google Hack" technique uses innovative traffic strategies that the Digital Marketers have determined as superior marketing advantages. Follow the advice in the Special Report to see an increase in YouTube views almost immediately.
Digital Marketer provides entrepreneurs with the information and confidence to create powerful marketing strategies. Its cutting-edge techniques have produced sales increases and magnified recognition for a multitude of business types. It releases Special Reports like this one, as well as other educational courses and materials to its subscribing members. Find out more by becoming a subscriber to Digital Marketer's membership program by visiting DigitalMarketer.com.
Whatever is needed to market a business can be found with Digital Marketer's help. All the strategies in "YouTube Google Hack" aim for one end result: getting free targeted traffic to a website.