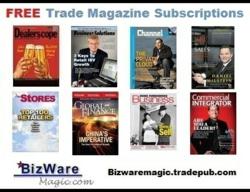 Anyone who qualifies, can receive valuable trade magazine subscriptions and downloads, without spending a dime.
(PRWEB) May 14, 2013
Bizwaremagic.com, which is a 10-year old business and marketing site, has recently updated its Industrial Trade Magazine Subscriptions Page. Run in partnership with Tradepub and Netline, this page lets any qualifying individual take full advantage of these trade magazine subscriptions in order to stay informed and up to date in one's specific industry or business.
The main reason for these attractive offerings (which come at no cost to the subscriber) has to do with advertising and demographics. Qualifying individuals must fill out a short questionnaire in order to receive a magazine. Publishers can then use these demographics and a larger subscriber base to demand higher premiums for ads featured in the magazines.
"This is a win-win situation for all involved, qualified subscribers receive quality information, which doesn't cost them a dime," says Titus Hoskins, a former teacher who now runs the Bizwaremagic site. "Publishers can reach a larger targeted audience and charge more for their ads in the process."
A large number of titles are carried in many different industries - covering such subjects as Finance, Engineering, Construction, Manufacturing, Marketing, Retail, Sales, Human Resources, Information Technology, Operations, Multimedia and much more. Anyone interested in staying up to date in a particular industry should check out these publications to see if they qualify.
The special Trade Magazine Subscriptions Page can be found here: http://www.bizwaremagic.com/Free_Industrial_Magazine_Subscriptions.htm or here: http://bizwaremagic.tradepub.com Bizwaremagic has been offering business and marketing solutions for over 10 years. All products/companies mentioned above are registered trademarks of their respective owners and companies.