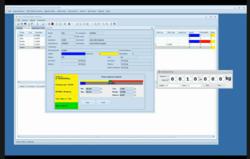 Raw materials are identified by reading a bar code, lots are verified the same way, precise amounts dispensed are recorded through the PC link to the scale and it is all 'real time'
Fairfield, NJ (PRWEB) July 24, 2012
Valdata Systems today announced the release of a free webinar providing education on best practices in dispensing and pre-weigh operations. The webinar gives an in-depth demonstration of the Mar-Kov CMS Dispensing Software Module.
The 46 minute webinar explains in detail every step of the critical pre-weigh through blending process and how best to optimize, improve and eliminate human error in this area of manufacturing. The webinar includes multiple scenarios including:

Preweigh
Blending
Commingling
Compounding
Weighing and dispensing is one of the most critical areas for regulated industries. Companies are striving to eliminate the potential for error from the manufacturing process. The CMS Dispensing Webinar shows how to ensure regulatory compliance while reducing risk in this area.
Learn how barcode identification, step-by-step process policing and scale integration dramatically improve your dispensing operation as you are guided through the preweigh process.
To view the Dispensing Webinar go to: http://www.valdatasystems.com/downloads.html
About Valdata Systems
Headquartered in Fairfield, NJ, Valdata Systems is a premier provider of Chemical Management solutions specifically targeting the Pharmaceutical, Flavor & Fragrance, Nutraceutical and Chemical Manufacturing industries.
For more information on Chemical Management Systems, Inventory Control Systems, Recipe Manager and other products provided by Valdata Systems please visit: http://www.valdatasystems.com