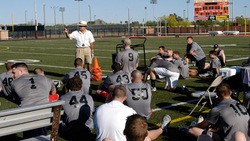 Perhaps the biggest issue was the timing of the event
Phoenix, AZ (PRWEB) April 17, 2009
The 1st Annual Coach Zauner Free Agent Specialists Combine was considered a success by both the teams and specialists attending. In all, 32 teams -- 26 National Football League (NFL), 2 Canadian League Football (CFL), and 4 United Football League (UFL) teams -- traveled to Phoenix, Arizona, on April 6, to evaluate 41 highly regarded kicking specialists.
Coach Zauner, a former 13 year NFL Special Teams Coordinator, who is considered by many to be the best kicking coach in the country, says he has always wanted to create an event that would assist professional football teams in finding the best kicking specialists talent available and would provide specialists with the opportunity to be evaluated by a large assembly of teams.
"During my career as an NFL Special Teams Coordinator, it was my always my dream to build or create a Free Agent Specialists Combine which assembled and showcased elite kicking talent for the NFL, CFL and UFL coaches and Pro Personnel to evaluate," said Zauner. "This was my first attempt, and I believe I put together a solid group of coaches and specialists for this Combine." He adds the early feedback from both coaches and specialists is quite positive.
Jim Fassel, former New York Giants Head Coach and current Head Coach of the newly formed UFL's Las Vegas team said, "Recently my UFL staff attended Coach Zauner's Free Agent Specialists Combine in Phoenix, Arizona. We have participated in many Free Agent Combines throughout the years searching for football talent and all agreed this was the best run Combine any of us have attended. This was a high energy event as there was no sitting around or waiting to evaluate the 41 specialists participating. The field of talent was handpicked and of the highest caliber." Fassel added, "this is 'the' Kicking Combine to attend if you're a professional football team or aspiring kicking specialist."
Bobby DePaul, Senior Director of Pro Personnel for the Chicago Bears agreed with Fassel's assessment and said, "This was the best run Free Agent Combine I have participated in during my 21 years working as a coach or scout in the NFL. This effort clearly demonstrated that Coach Zauner has the knowledge needed to run an efficient Combine and effectively evaluate specialists. This was a job well done and I am looking forward to an expanded field of specialists next year."
And Joe Marciano, Special Teams Coordinator for the Houston Texans, who at the 2008 NFL Combine, encouraged Coach Zauner to undertake this year's event, said "Zauner knows what it takes to find great kicking specialist talent." Adding this was apparent in his first Free Agent Combine. "Coach Zauner has coached in the NFL as a Special Teams Coordinator for 13 years. He's coached or trained 19 Pro Bowl kickers and punters throughout his career. Also during his NFL coaching career, he's competed against the 'best of the best'. Zauner knows the standards that NFL Special Teams Coaches want and need of their kicking specialist's. His Combine was run extremely efficiently for the coaches, Pro Personnel and players. I believe if you're an NFL Special Teams Coach, Director of Personnel or kicking specialist, Coach Zauner's Combine is 'the' event to attend."
Organizing this Free Agent Combine event took quite a bit of time and effort over a period of a few months, said Zauner, but he felt it was a great investment. "I believe the work was worth it for the teams, the kicking specialists and me. I add myself to this list because it has been a dream of mine to create an event like this, which showcases -- to the professional football teams -- some of the best kicking specialist talent available."
Even though those who attended thought the Free Agent Combine went quite well, Zauner says he gained some valuable insight from this first event. "Perhaps the biggest issue was the timing of the event," said Zauner. "I scheduled this year's event a little too close to the NFL Draft and therefore some of the few remaining NFL teams -- that would have otherwise attended -- could not." Zauner says "he will not make that mistake again next year and is tentatively scheduling the event for late March, 2010."
This year's Free Agent Specialists Combine was held under sunny blue Arizona skies at the Paradise Valley High School (field turf) with the assistance of Head Coach Donnie Yantis.
For more information contact:
Coach Gary Zauner
Coach Zauner, LLC
Professional Kicking, Punting, Snapping and Special Teams Consultant
612.239.9529
gzauner (at) aol (dot) com
# # #