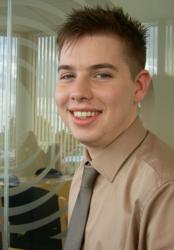 SWA is a dynamic, fast moving and successful organisation. With this comes a significant opportunity for me to continue to develop my skills, improve myself and move in to more senior roles within SWA
(PRWEB UK) 28 September 2012
SWA, UK based training provider,
will be holding a complimentary event on the 4th of October to help businesses better understand apprenticeships and learn how other companies have benefitted from recruiting apprentices.
Presenting on the behalf of SWA will be Chris Card and Neil Greany. Chris Card is the National Account Manager for SWA, and he ensures that employers are pleased with the service being provided by the company, allowing for a smooth process for the apprenticeship programmes. At the event he will be discussing the effects apprenticeships have had on an organisation SWA have worked with in the past.
Neil Greany, Sales Administrator for SWA, having recently completed his apprenticeship now supports the business development team with the sales and marketing process of the company. At the event he will be discussing apprenticeships from the point of view of the learner, and explain why many school leavers are now applying for apprenticeships instead of continuing onto university.
Neil Greany explains in his own words the benefits for both employer and employee of apprenticeships, "I Joined SWA back in August 2011, as the Business development Apprentice. Back then my role was to assist the Business Development Manager, with putting together proposals, assisting with marketing material activities, and responsibility to phone calls for the department. As I progressed I became more involved with clients face-to-face, attending networking events and playing a key role in meetings. Most recently I have taken on the management of SWA's CRM (Customer Relationship Management) System, making sure it runs smoothly, developing marketing campaigns and updating client information ensuring with have an up to date `live` database. I have now completed my Level 2 apprenticeship and have been taken on as the Sales Administrator for the company, and will also progress onto a level 3 apprenticeship. SWA is a dynamic, fast moving and successful organisation. With this comes a significant opportunity for me to continue to develop my skills, improve myself and move in to more senior roles within SWA."
SWA has invited a number of guest speakers from a wide range of industries to discuss the ways in which apprenticeships have aided their businesses. In addition to this, SWA have also invited Giles Holmes, an Employer Account Manager from the National Apprenticeship Service (NAS), whose job it is to discuss apprenticeships with employers and encourage them to take on apprentices. He will be promoting the apprenticeship programme to the attendees at the free event.
Chris Card, National Accounts Manager for SWA commented, "Now is an excellent time to consider recruiting apprentices as thousands of school leavers up and down the country have just received their exam results. Apprentices can give a business the chance to grow their own talent for future managers, develop specialist skills with technology, and take advantage of the creativity of young people within a business."
Recently SWA secured over £5 million of funding from various colleges, including Bourneville College and the Skills Funding Agency, to provide support for apprentices. This funding will not only support apprentices in their learning but also help to develop the workforce of all businesses that train their apprentices with SWA.
SWA are UK based training providers. They offer a range of services to employers and employees that benefit businesses as a whole and help them develop their staff in order to reap the rewards of their education and training.