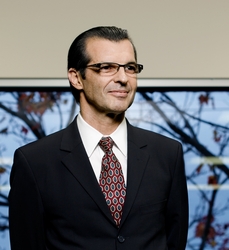 I am humbled to be nominated for a CATAAlliance Leadership award. This award validates the positive changes the people at FreeBalance are helping to make around the world.
Ottawa, Canada (Vocus) May 4, 2010
FreeBalance, a global software company that helps governments leverage robust Government Resource Planning (GRP) technology to accelerate country growth, today announced that FreeBalance President & CEO, Manuel Pietra, has been nominated by the CATAAlliance for the Peter Brojde Award for Canada's Next Generation Executive Leadership.
For over two decades, the CATAAlliance Innovation Awards Gala Dinner has been celebrating the best in Canadian advanced technology. These awards are presented in recognition of exceptional contributions made to the creation of science and technology-based industrial strength in Canada. The CATAAlliance encourages people to cast their votes on the CATAAlliance website. Winners will be announced at the CATAAlliance Innovation Awards Dinner on May 19, 2010 at the Telfer School of Management, University of Ottawa, Canada.
"I am humbled to be nominated for a CATAAlliance Leadership award," said Manuel Pietra, President & CEO of FreeBalance. "This award validates the positive changes the people at FreeBalance are helping to make around the world. Global citizenship at FreeBalance is about our commitment to international development, active participation in the global community, and corporate social responsibility."
In mid-2006 following his appointment as FreeBalance President & CEO, Mr. Pietra initiated a new business strategy. The purpose of this change was to better address the global government market. Strategic goals were changed. The company re-organized. This new FreeBalance business model and planning process was based on the premise of "customers for life."
This strategic change to a For Profit Social Enterprise (FOPSE) software company has resulted in improvements in sales execution and operational efficiency. The evidence of this change has been an 18-20% per year annual growth. The industry has taken notice of the company's successes as FreeBalance won the Canada Export Achievement Award for the Ontario region in November of 2009.
As a FOPSE software company, FreeBalance contributes to customer country economies by forming local partnerships and hiring citizens to ensure independently sustainable implementations. FreeBalance GRP technology accelerates country growth and helps improve governance, demonstrate accountability in public finance and bolster citizen confidence through transparency. Public financial management reform is a key element of good governance and sustainable development. FreeBalance is also committed to supporting children's programs in the developing world. FreeBalance has established partnerships with organizations such as SOS Children's Villages to directly impact the lives of thousands of children.
FreeBalance customers span the globe and the user community includes public financial management professionals in 18 countries, including Namibia, Sierra Leone, Uganda, Southern Sudan, Timor-Leste, Afghanistan, Kosovo, and Iraq. FreeBalance operates in 15 customer time zones. FreeBalance has more than 60,000 users around the world. FreeBalance software manages a global civil service workforce of 1,500,000, and also manages a quarter trillion ($US) annual budgets worldwide.
About FreeBalance
FreeBalance helps governments around the world leverage robust Government Resource Planning (GRP) technology to accelerate country growth. FreeBalance software solutions for public financial and human resource management support reform and modernization to improve governance, transparency and accountability. Good governance is required to improve development results.
Founded in 1984, FreeBalance is a for-profit-social-enterprise (FOPSE) company headquartered in Ottawa, Canada, with sales and support offices in Washington, DC (United States), Lima (Peru), Lisbon (Portugal), London (Great Britain), Pristina (Kosovo) and St. John (Antigua and Barbuda). FreeBalance solutions have been implemented in countries across the globe, including Canada, United States, Sierra Leone, Guyana, Pakistan, Mongolia, Afghanistan, Antigua & Barbuda, Timor-Leste, Republic of Kosovo, Palestine, Panama, and Uganda. For more information, visit http://www.freebalance.com.
About Manuel Pietra, FreeBalance President and CEO
Manuel Pietra is a global executive with more than 20 years of successful management experience from companies in the United States, Canada, Europe, South Africa, and Latin America. As President and CEO of FreeBalance, Mr. Pietra leads global growth strategies, organizational restructuring and customer engagement. Manuel Pietra has held executive positions on the boards of several international companies and actively participated in the venture capital arena. He holds a degree in Business Management from the South African Institute of Management and is a board member for the International Consortium on Government Financial Management (ICGFM). Mr. Pietra is multilingual and often speaks at high profile investment seminars and technology conferences across the world in English, Portuguese, Spanish, and French.
About CATAAlliance
The Canadian Advanced Technology Alliance (CATAAlliance) grows the revenues of its members by creating a collaborative edge — a chain of expanding value that ripples across Canada's Innovators, Commercializers, Users, and Professionals. The largest high-tech association in Canada, CATAAlliance matches businesses with opportunities across almost every sector, so that we can all do business together. Reaching out from Canada, CATAAlliance members are connected with investment and partnership opportunities with the major global companies. As 80% are exporters, CATA's members are the arrow-head for global growth. Through its "Innovation Nation" program, CEOs come together to catalyze the development of the Canadian business environment. CATA is the foundation for commercialization, market research, networking, events, access to other associations, and professional development, across the nation.
Media Contact:
James Elrick
Public Relations Specialist
FreeBalance
Tel: +1 (613) 218 4938
http://www.FreeBalance.com
###