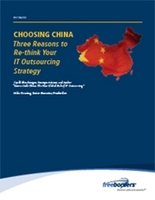 Choosing China – Three Reasons to Re-Think Your Outsourcing Strategy
San Francisco, CA (Vocus) May 24, 2010
Freeborders, Inc., a global provider of consulting, technology and outsourcing solutions to the financial services and technology based industry, will host a Webinar with Cyrill Eltschinger, author of Source Code China, on the key advantages that China offers for IT outsourcing.
Who:
Cyrill Eltschinger, author of Source Code China
Mike Keating, Senior Executive of Freeborders
What:
Freeborders will be hosting the educational Webinar "Choosing China – Three Reasons to Re-Think Your Outsourcing Strategy" to reveal the top three reasons that make China an attractive choice for IT outsourcing. The presentation will highlight the findings of a recent analysis on the China ITO market by China IT market experts Cyrill Eltschinger and Mike Keating. The Webinar offers guidance for companies to gain sustainable business advantages by choosing China as their offshore location.
When:
Thursday, June 8, 2010, 12:00pm -1:00 pm EDT
Where:
Register at http://freeborders.com/Webinar-June-8-Registration.html to receive dial-in instructions.
The attendance of the Webinar is free of charge.
Why:
The global sourcing market is maturing. IT organizations are becoming more intentional about proactively managing their delivery location and supplier portfolios. With the increased complexity of sourcing programs and focus on managing location concentration risks, companies are looking beyond India for their global sourcing requirements.
"Choosing China" is the second Webinar of Freeborders' seminar series on China's ITO landscape that brings together industry experts to share market insights and best practices.
About Freeborders
Founded in 1999, Freeborders helps financial services, Internet services and retailing companies solve the most complex business challenges. The company provides global consulting, technology and outsourcing services through an integrated China to US delivery model. Freeborders enables clients to cost-effectively adapt their business infrastructure to market opportunities and changes, offering deep domain expertise, innovative thinking and strategic execution. Headquartered in San Francisco, the company has offices in London, Hong Kong, Shenzhen, and WuXi. To learn more, visit http://www.freeborders.com.
© 2010 Freeborders, Inc. All rights reserved
###