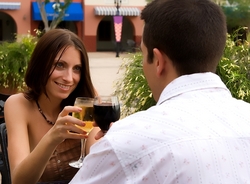 Despite lighter wallets, the cycle of dating continues. The question of whether or not this trend is here to stay will be answered upon stabilization of economic normalcy
New York, NY (PRWEB) September 8, 2009
As the nation's unemployment rate hovers near double digits, online singles become increasingly strategic in their dating strategy. According to Martin Encarnacion, CEO & Founder of SweetLuck.com, a free online dating and social networking website, "online singles are still going out, but for the most part, the economy has forced many to adhere to new dating strategies."
A new poll conducted by SweetLuck concludes that "singles are going out less not because they have a smaller pool of candidates, but rather because of the cost factor. The sagging economy has given rise to an anomaly in online dating that has not been seen in some time," said Mr. Encarnacion. They are not only taking into consideration the comparability of the other person, but have also "added a new factor into the equation that is being weighted pretty heavily; the odds of whether or not the date will be a waste of money," he continued.
Incompatible dates can translate into very expensive endeavors, says the young entrepreneur. Guys have gotten wise and have calibrated in response. They are more selective when it comes to who they invite and where they invite them to. In the past most guys "would take their dates to expensive dinners, what our poll shows is that now you see them opting for less expensive alternatives," he stated.
Interestingly enough, our poll also shows that women have also emerged as being choosy in this downward market. One would think that women have the inexpensive role in the dating game; after all, they generally do not pay for first dates. It's logical that they would be choosy when "taking into consideration that looking pretty is not cheap. A first date outfit can run just as much or even more than the cost of the actual date. There is also the bailout factor. Women often have to cab it home when they bail out of a bad date, and a cab ride these days are expensive," stated Mr. Encarnacion.
"Despite lighter wallets, the cycle of dating continues. The question of whether or not this trend is here to stay will be answered upon stabilization of economic normalcy," he predicted.
About SweetLuck™:
SweetLuck is one of the fastest growing free online dating website for singles. We feature the latest in cutting edge dating communication, including chat rooms, video chat, matchmaking, personals and so much more. SweetLuck looks forward to bringing you the absolute best ways of sparking an online connection.
###