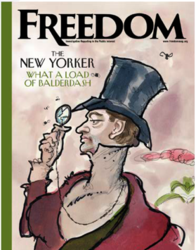 Los Angeles, CA (PRWEB) May 14, 2012
Known for its investigative reporting in the public interest, Freedom Magazine, the human rights journal of the Church of Scientology, has been awarded a Religion Communicators Council (RCC) DeRose-Hinkhouse Memorial Award of Excellence for its 2011 Special Report, The New Yorker: What a Load of Balderdash.
Described by the panel of judges as a "thoughtful discussion of a provocative topic," Freedom presents a view of The New Yorker that calls into question the magazine's credibility and integrity and that of staff writer Lawrence Wright.
The tone of the issue is set by a caricature of the New Yorker silhouette of dandy Eustace Tilley that appeared on the magazine's launch issue in 1925 and in various renderings on subsequent New Yorker anniversary editions. On the Freedom Magazine cover, it appears as a tattered but arrogant New Yorker writer, Lawrence Wright, who peers through a shattered monocle at the flies buzzing about him.
Ostensibly a profile of a Hollywood director, Wright's article was a thinly disguised attack on the Church of Scientology. As Freedom notes, "From opening credits to the agonizing twenty-four thousand six hundred fifth word," the New Yorker story was a comedy of errors." The Special Report chronicles these "errors" in detail.
A section of the Special Report entitled "What Happened When Wright Was Writing" states that the writer "apparently didn't think it important enough or relevant to furnish New Yorker readers with the real story so they could make up their own minds." It further documents the record expansion of the Church throughout the time period of the "research," including the consecutive grand openings of new Churches in Sweden, Dallas, Nashville, Rome, Washington, D.C.; Brussels, Quebec, Las Vegas, Johannesburg, Los Angeles, Mexico City, Pasadena, Seattle, Melbourne, and Moscow.
The award-winning Freedom Special Report also includes a DVD of three videos using black-and-white TV and film footage from the 1940s and '50s to portray the tabloid character of Wright's research and writing. The videos and the full magazine are available on the Freedom Magazine website at http://www.FreedomMag.org .
About The Religion Communicators Council
RCC is an interfaith association of religion communicators who work in print and electronic communication, marketing and public relations. Established in 1929, it is the oldest association of religion communicators in America. The DeRose-Hinkhouse Memorial Awards are given annually to active members of RCC who demonstrate excellence in religious communications and public relations. Learn more at http://www.ReligionCommunicators.org .
About Freedom Magazine
Freedom Magazine is published by the Church of Scientology in 20 nations, a leading voice for human rights and civil liberties in the world today. Since 1968, Freedom has been dedicated to advancing awareness and achievement of human rights and has been a catalyst for groundbreaking reforms in the public interest. Learn more at http://www.FreedomMag.org .