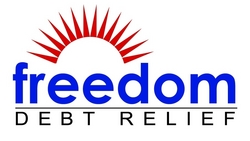 The results confirm the help and relief we are bringing to consumers in these challenging economic times
San Mateo, Calif. (Vocus) February 10, 2010
Freedom Debt Relief (FDR), one of the nation's largest debt settlement companies, is starting off 2010 on the heels of a record-setting 2009.
The company settled $31.4 million in consumer debt, for 5,622 creditor accounts, during December. Those results brought the amount of debt it resolved for consumers nationwide in 2009 to nearly $297 million across more than 56,000 creditor accounts. The total debt settled in 2009 represents an increase of 96.5 percent over 2008.
The December settlements achieved debt reduction savings of $18.4 million for FDR's clients. Those savings represent the difference between the debt balance at the time of settlement and the amount the client actually paid. For all of 2009, FDR obtained debt reduction savings of $173.4 million – an increase of nearly 114 percent over 2008 – for 30,500 clients.
The results that FDR's settlement team obtained in 2009 represent an average savings rate of 58.4 percent of the settled debt (total client debt balances at the time of settlement, before program fees). In other words, FDR clients paid an average of just 41.6 percent of the total debt amount they owed at the time of settlement.
For example, an individual who had a $10,000 credit card debt settled by FDR in 2009 paid, on average, just $4,160 to resolve that debt, thanks to FDR professionals' ability to settle with the individual's creditors.
As a debt settlement firm, FDR negotiates directly with creditors on consumers' behalf to resolve debt balances.
Offering an alternative to credit counseling, debt consolidation and bankruptcy, FDR's debt settlement program helps qualified clients resolve unsecured debts (debts other than mortgage or auto). Individuals who persist with the program can typically resolve their debts in two to four years. According to Andrew Housser, FDR's co-CEO, debt settlement is best suited for individuals who are carrying serious debt, who are struggling to make required minimum payments, and who would otherwise often be considering bankruptcy or credit counseling.
Last year also marked the year in which the company surpassed the $500 million mark in debt settled for its clients. FDR now has settled $563.8 million in consumer debt since settling its first account in 2003.
"The results confirm the help and relief we are bringing to consumers in these challenging economic times," said Housser. "By working with a business model in which we serve as an independent consumer advocate on behalf of our clients, we can assist them in resolution of serious debt burdens in a timely manner, and help them get back on the road to financial well-being."
About Freedom Debt Relief (http://www.freedomdebtrelief.com)
Freedom Debt Relief provides consumer debt settlement services. Working for the consumer to negotiate with creditors and lower principal balances due, the company has served more than 70,000 clients since 2002. Freedom Debt Relief is a wholly owned subsidiary of Freedom Financial Network, LLC (FFN).
Based in San Mateo, Calif., FFN also operates offices in Sacramento and Tempe, Ariz. The company, with 580 employees, was voted one of the best places to work in both the San Francisco Bay Area and the Phoenix area in 2008 and 2009. Company co-founders and co-CEOs Andrew Housser and Brad Stroh were named to the Silicon Valley/San Jose Business Journal's "40 Under 40" list in 2008, and are recipients of the Northern California Ernst & Young 2008 Entrepreneur of the Year Award.
###