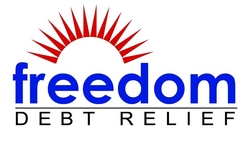 We are honored to be acknowledged by TASC and to have the opportunity to work together to further our industry's mission and goals
San Mateo, CA (Vocus) April 2, 2010
Two executives from Freedom Debt Relief LLC (FDR), have received the President's Award from The Association of Settlement Companies (TASC).
CEO Andrew Housser and General Counsel Bob Linderman received the award, one of the highest honors in the debt industry, for their "outstanding and voluntary service" to TASC in 2009.
The executives, working on behalf of TASC and FDR, have led industry efforts to assist and educate federal and state agencies that have authority to regulate the debt settlement sector. They worked with and represented TASC as panelists at the Federal Trade Commission's 2009 public forum on "Debt Relief Amendments to the Telemarketing Sales Rule," discussing proposed fee regulation and rules to eliminate deceptive and abusive telemarketing of debt relief services.
"We are honored to be acknowledged by TASC and to have the opportunity to work together to further our industry's mission and goals," says Housser. "The commitment to ensuring that consumers in financial hardship have viable debt settlement options that can help them back on the road to financial stability is one that TASC and Freedom Debt Relief share wholeheartedly."
TASC President Robby Birnbaum agrees. "We thank and appreciate the Freedom Debt Relief executives for their commitment and dedication to consumer advocacy in the debt settlement industry. They have stepped up to the challenges facing our industry while exemplifying the values and missions of the TASC organization."
About Freedom Debt Relief (http://www.freedomdebtrelief.com)
Freedom Debt Relief provides consumer debt settlement services. Working for the consumer to negotiate with creditors and lower principal balances due, the company has served more than 80,000 clients since 2002. The company holds Goldline Research Preferred Provider certification for excellence among debt settlement companies.
Freedom Debt Relief is a wholly owned subsidiary of Freedom Financial Network, LLC (FFN). Based in San Mateo, Calif., FFN also operates offices in Sacramento and Tempe, Ariz. The company, with 600 employees, was voted one of the best places to work in both the San Francisco Bay area and the Phoenix area in 2008 and 2009.
About The Association of Settlement Companies (http://www.tascsite.org)
The Association of Settlement Companies (TASC) promotes fair business practices, consumer protection and industry standards for the debt settlement industry. TASC, founded in 2005, serves to protect consumers through an organization seal that represents best practices and standards of reputable companies. The organization also protects its member companies through lobbying efforts at the state and national levels, as well as awareness initiatives to educate consumers on debt settlement as a financial solution. TASC member companies are required to adhere to strict association standards governing business practices and ethics.
###