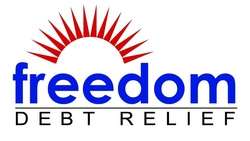 The government makes money by taxing the people – you and me
San Mateo, CA (Vocus) November 23, 2010
The election-season debate brought newfound attention to the ever-increasing national debt, which stands at more than $13.8 trillion, or nearly $44,600 per U.S. citizen. This number dwarfs levels of personal debt, and it can have an impact on the future value of individual savings and investments, according to Kevin Gallegos, vice president of Freedom Debt Relief (FDR) LLC.
Collectively, Americans owe on three major types of debt: the government's taxpayer-paid national debt, individual consumer debt (including credit cards, mortgages and auto loans), and student debt. Freedom Debt Relief took a snapshot of each type of debt today, and what individuals can do about each debt.
1) National debt raises risk of inflation – The national debt is important to the financial well-being of Americans for several reasons. First and foremost, individuals will pay when the bill comes due. "The government makes money by taxing the people – you and me," said Gallegos. "So when they pay that debt, it's really us paying that debt off. In addition, as the debt mounts, and we are less able to cover the debt, the interest rates on that debt will increase." Secondly, economists argue that a large national debt can create inflation. Inflation, in turn, makes the dollar worth less. That means the dollars people are putting aside in savings now may be worth a lot less in years to come. Additionally, if inflation heats up, the Federal Reserve might raise interest rates to cool it – meaning debt will become more expensive for everyday Americans. What to do: You cannot do much about the deficit, but the concerns it raises for the future are good reason to avoid personal debt. Be a saver – you will need more money in the future.
2) Consumer debt sucks up individual income – Today, consumers owe $2.4 trillion in consumer debt. American households have committed more than 12 percent of their disposable income to debt payments. If automobile leases, property taxes and other obligations are included, renters pay more than 24 percent of their income to debt. What to do: Create your own credit card debt relief. "Be conservative with purchases," Gallegos said. "Save up a good down payment before purchasing a vehicle, and buy what you can afford, not the latest model to hit the showroom floor." Always pay bills on time to avoid late fees and penalty interest rates.
3) Student debt is rising, too – Total student loan debt is now greater than total credit card debt. Students and graduates owe at least $868 billion, more than total U.S. credit card debt of $814 billion. Student loan debt increases at almost $2,900 per second, according to FinAid, which has created a student loan debt clock to tally the total. Some students will pay hundreds of dollars per month for 25 years after they graduate. What to do: Take student loan debt seriously. Do not borrow more than you need. Consider finances when you select a college, and consider what you are likely to earn in your chosen career before borrowing. Seek out help with repayment, and contact your lender if you are having trouble repaying your loans.
About Freedom Debt Relief (http://www.freedomdebtrelief.com)
Freedom Debt Relief provides consumer debt settlement services. Working for the consumer to negotiate with creditors and lower principal balances due, the company has served nearly 100,000 clients since 2002 and negotiates an average of $42 million in debt each month. The company is an accredited member of The Association of Settlement Companies, is a platinum member of the International Association of Professional Debt Arbitrators, and holds the Goldline Research Preferred Provider certification for excellence among debt settlement companies.
Freedom Debt Relief is a wholly owned subsidiary of Freedom Financial Network, LLC (FFN). Based in San Mateo, Calif., FFN also operates an office in Tempe, Ariz. The company, with more than 500 employees, was voted one of the best places to work in both the San Francisco Bay and Phoenix areas in 2008, 2009 and 2010.
###