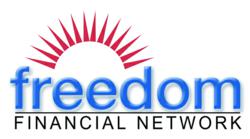 Pre-planning is an important part of preparation for a financial emergency. It's also smart to have a sense of what to do should a disaster strike.
San Mateo, CA (PRWEB) March 20, 2012
The recent spate of tornadoes in the Midwest highlights an urgent need for Americans to be financially prepared for a disaster or emergency, according to Kevin Gallegos, vice president of Phoenix operations for Freedom Financial Network (FFN).
The statistics on debt are especially worrisome when it comes to being prepared, said Gallegos. In 2011, 98 natural disasters in the United States caused $27 billion in losses – and left thousands of people without homes, and in some cases without livelihoods. In 2010, there were nearly 500,000 structure fires around the country. Bills from medical procedures are estimated to cause more than 60 percent of bankruptcy filings. Any of these situations could result in the loss of a job, marital stress, and a significant increase in debt, Gallegos noted.
"Pre-planning is an important part of that preparation for a financial emergency," said Gallegos. "It's also smart to have a sense of what to do should a disaster strike home or community."
Before a disaster
A disaster can happen to anyone, anywhere. It is impossible to be fully prepared, but these tips can help people be as prepared as possible.
1. Build an emergency fund. Everyone should set aside a portion of monthly income for savings. Individuals can establish a monthly savings goal and turn that into a "bill" to pay along with other bills. To simplify this process, a bank can automatically transfer the money into savings accounts. Emergency fund money should be kept in a savings account that is accessible via ATM card or electronic withdrawal, said Gallegos, so that even if one geographic area has a disaster, the account holder can still access the funds.
2. Obtain appropriate insurance. Home, auto, health, disability, and life insurance provide peace of mind and help people recover from disasters. People living in disaster-prone areas might consider separate flood insurance (homeowners policies do not cover flood losses). An annual review with an insurance adviser can confirm proper coverage.
3. Back up papers and information. Records of all important information that might be needed in a disaster, such as phone numbers, account numbers, bank and credit card information, is key. Storing these records in a portable format as well as in online storage will ensure they are accessible from a remote location in case of emergency.
4. Be prepared. Beyond keeping up with the news and understanding regional risks, the U.S. government recommends all residents have emergency preparedness kits (http://www.ready.gov/ includes information on what to include).
After a disaster
If a disaster does strike, Gallegos recommended the following actions. "The first step is to find a safe place to stay," Gallegos said. "After that, from a financial perspective, it is important to take charge of finances and immediately stop all extraneous expenses while evaluating next steps."
1. Get help to meet the basics. Available help depends on the situation. After a natural disaster, the Red Cross can secure housing and clothing. Community resources can provide medical care or counseling at low or no cost. Those who are out of work should investigate assistance with food stamps and public health insurance. Other help could be available from local food banks, shelters and religious organizations. "It can be difficult to accept this kind of help, but if you are deeply in need, it is designed to help," Gallegos said.
2. Deal with creditors. Borrowers with good credit history might be able to defer payments or submit partial payment while getting back on their feet. In most cases, however, creditors will require borrowers to pay or discharge debt. People who cannot make minimum payments, or who have so much debt they cannot pay it, should consider getting help; options include consumer credit advocacy or debt settlement, a debt management plan, or bankruptcy.
3. Keep good records. Throughout a financial crisis, it is important to keep good records of every communication, Gallegos emphasized, whether with a medical provider, an insurance adjustor or a government agency. In the aftermath of a natural disaster, fire or similar destruction, individuals can take photos of damage and keep damaged items until an insurance adjuster reviews.
5. Rebuild credit. Eventually, victims of a disaster will recover and want to buy a home or a car, or return to school. To borrow money for these things, they will need a decent credit score, said Gallegos. To rebuild a credit score, consumers should pay all bills on time, establish a budget, and within the budget, work to pay down debt as quickly as possible. "It is important to leave as much room on credit cards as possible, but to use credit, as credit agencies rely on past payment history to gauge how borrowers will do in the future." The personal finance expert reminded people to think twice about canceling a credit card with a long (positive) history, as the longer one holds a card, the more valuable it is in credit score determination.
"It is difficult to bounce back from a disaster, but it is possible," said Gallegos. "If you or someone you know is struggling to recover from a serious financial setback, these steps can help to regain a stronger financial footing."
Freedom Financial Network (http://www.freedomfinancialnetwork.com)
Freedom Financial Network, LLC (FFN), provides comprehensive consumer credit advocacy services. Through its Freedom Debt Relief, Freedom Tax Relief and ConsolidationPlus products, FFN works as an independent advocate to provide comprehensive financial solutions, including debt settlement, debt resolution and tax resolution services for consumers struggling with debt. The company, which has resolved more than $1.5 billion in debt for more than 120,000 clients since 2002, is an accredited member of the American Fair Credit Council (formerly The Association of Settlement Companies) and a platinum member of the International Association of Professional Debt Arbitrators. The company holds the Goldline Research Preferred Provider certification for excellence among debt relief companies.
Based in San Mateo, Calif., FFN also operates an office in Tempe, Ariz. The company, with more than 500 employees, was voted one of the best places to work in the San Francisco Bay area in 2008, 2009 and 2012, and in the Phoenix area in 2008, 2009 and 2010. FFN's founders received the Northern California Ernst & Young Entrepreneur of the Year Award in 2008.