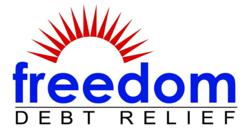 Many Americans still have holiday bills or unemployment weighing down their credit card balances. During this year's harsh winter conditions, people in many parts of the country are struggling to free up money.
San Mateo, CA (Vocus/PRWEB) February 16, 2011
This year's winter storms are driving up heating costs, making it harder for consumers to make ends meet and keep up with any plans they have to reduce debt, said Freedom Debt Relief (FDR) vice president Kevin Gallegos, but a few steps can help save money on fuel bills.
The average American home will spend $991 on heating this year. For those relying on heating oil, the cost of energy has increased by as much as 17 percent over last year. In addition, nearly 9 million households will receive energy assistance from the U.S. government's energy assistance program this year. And the number of households seeking help to pay their energy bills is expected to increase again in 2011 for the third consecutive year.
"Many Americans still have holiday bills or unemployment weighing down their credit card balances," said Gallegos. "With heating bills going up every year, and particularly during this year's harsh winter conditions, people in many parts of the country are struggling to free up money." He offers eight energy-saving strategies Americans can employ this winter to help:
1) Protect your heating system. Homes, apartments or condo units that have an individual furnace or boiler can benefit from a professional inspection. A furnace that works properly will be more efficient and less likely to fail. Most service providers will give the homeowner tips to maintain the system themselves. Change furnace filters regularly to keep air clean and to ensure maximum air flow.
2) Turn down the heat. If health permits, lower the home temperature to 68 degrees (or even lower). Every degree the thermostat is lowered can cut heating costs by up to 5 percent. At night, or when residents are away, lower the temperature as far as possible while protecting health and keeping pipes from freezing.
3) Bundle up. Keep the thermostat lower and instead put on layers. Fleece or shearling slippers, an extra sweater or fleece top, or even a cap will retain body heat. Layer beds with heat-retaining covers such as fleece sheets, fluffy blankets, and a down or down-alternative comforter to stay warm while conserving energy.
4) Program the temperature. Make furnace settings automatic by installing a programmable thermostat. These devices cost about $40 and are simple to install.
5) Insulate. Carefully inspect windows and doors for drafty spots where cold air can enter. Install weather stripping and door sweeps to block drafts. Add old-fashioned "draft dodgers" for a quick fix at exterior doors. Other common areas for air leaks are locks, outlets, air conditioning units and recessed light fixtures. Cover outside vents, including air conditioning units. If possible, install insulated electrical outlet boxes and light fixtures. The Energy Star program offers a free guide to home insulation at http://www.energystar.gov/index.cfm?c=diy.diy_index.
6) Save on hot water energy. Set the hot water heater's temperature to 120 degrees (or turn it down a notch) and save up to 10 percent on water heating costs. The heater still will produce plenty of hot water, and the water will be less likely to accidentally scald someone. If the hot water heater is situated in a cool area, invest $20 in an insulating jacket to help maintain water temperatures and reduce heating time. Insulate the first few feet of pipe that transport hot water from the water heater. When replacing a water heater, consider a tankless or "on-demand" unit. The U.S. Department of Energy estimates these appliances are 8 percent to 34 percent more efficient than conventional hot water tanks.
7) Shop around for fuel oil. Those who purchase fuel oil have a choice of energy providers. Compare prices to obtain the lowest rates.
8) Take a tax credit. Homeowners who insulate or add certain energy efficiency improvements to their homes can still claim some tax credit during 2011. The amount of the tax incentive is capped at $500, and restrictions apply. Consult the Internal Revenue Service or a tax advisor for details.
"These changes can make a real difference in home heating costs this winter," Gallegos added. "You can feel good about saving energy – and freeing up more of your money to pay off debts or add to savings."
Freedom Debt Relief (http://www.freedomdebtrelief.com)
Freedom Debt Relief provides consumer debt resolution services. Working as an independent advocate for consumers to negotiate with creditors and lower principal balances due, the company has resolved more than $1 billion in debt for nearly 100,000 clients since 2002. The company is a charter member of The Association of Settlement Companies and a platinum member of the International Association of Professional Debt Arbitrators. FDR holds the Goldline Research Preferred Provider certification for excellence among debt settlement companies.
Freedom Debt Relief is a wholly owned subsidiary of Freedom Financial Network, LLC (FFN). Based in San Mateo, Calif., FFN also operates offices in Sacramento and Tempe, Ariz. The company, with more than 500 employees, was voted one of the best places to work in the San Francisco Bay area in 2008 and 2009, and in the Phoenix area in 2008, 2009 and 2010. FFN's founders received the Northern California Ernst & Young Entrepreneur of the Year Award in 2008.
# # #