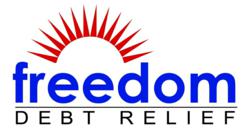 Our biggest concern is that consumer debt continues to rise, and revolving debt jumped 5 percent higher in May alone.
San Mateo, CA (PRWEB) July 13, 2011
After improving economic conditions in terms of consumer employment, debt and spending, the situation has held steady or declined slightly in the past months, according to the Freedom Debt Relief Quarterly Comment on consumer debt and credit issues.
"Our biggest concern is that consumer debt continues to rise, and most disturbingly, that revolving debt – of which credit card debt is the main component – jumped 5 percent higher in May alone," said FDR vice president Kevin Gallegos. "Unemployment has actually increased slightly in the past quarter, and income is not keeping pace with the rise in debt."
FDR co-founder and CEO Andrew Housser expressed similar concerns. "Non-revolving debt is one thing, because that debt might be funding lasting investments such as an education, vehicle or home. But rising revolving debt indicates that people are spending more with credit cards."
A summary of statistics from recent financial reports includes:
1. Consumer debt continues recent upward trend. Statistics released Friday by the Federal Reserve Board show that total consumer debt continues to be on the rise. After declining in both 2009 and 2010, total consumer debt has increased every month to date in 2011. In May, the most recent month on record, total consumer debt rose by 2.5 percent, to $2.432 trillion (excluding mortgage debt).
2. Revolving debt leaps higher. The biggest change in the Federal Reserve Board report is the rate of increase in consumer revolving debt. The revolving debt consumers carry – which includes credit cards – rose in May by 5.0 percent over the previous month, increasing by $3.36 billion to $793.1 billion. This turnabout reverses the trend that had revolving debt declining every month since August 2008 (with one exception, in December 2010). During that three-year period, revolving debt declined by nearly $175 billion, or more than 18 percent, from its all-time high of $964.6 billion.
3. Non-revolving credit still on the rise. Non-revolving consumer debt – which includes auto and RV loans, education loans, etc. – increased again in May, albeit at a slower pace than in recent months. In May, non-revolving consumer debt increased at an annual rate of 1.3 percent. Total non-revolving consumer debt grew by just $1.8 billion over the prior month.
4. Personal income increases. The Bureau of Economic Analysis (BEA) reports that personal income continued to rise in May, increasing by 0.3 percent or $36.2 billion. Disposable personal income (DPI) increased by 0.2 percent or $29.2 billion.
5. Spending flat. Personal consumption expenditures held steady in May, with no increase or decrease. When personal outlays and personal saving were added to personal consumption expenditures, the total rose by a very slight $6.2 billion (.06 percent) in May.
6. Household debt ratio declines, but may trend up. According to just-released data, during the first quarter of 2011, the household debt service ratio (the estimated ratio of debt payments to disposable income) dropped again to 11.51, more than two points lower than its high of 13.96 in Q3 2007. Time will tell whether this trend continued in Q2; that data will be released in September.
7. Employment numbers hold steady. In June, the most recent period for which data was released last week, the U.S. unemployment rate remained at 9.2 percent. This is a 0.4 percent increase from the rate during the first quarter of this year. Approximately 14.1 million people remained unemployed in the United States during June.
The FDR Quarterly Comment pulls together significant statistical releases and provides quarterly comment on timely debt and credit issues that matter to consumers. To schedule an interview with Kevin Gallegos or Andrew Housser, contact Aimee Bennett at 303-843-9840 or aimee(at)faganbusinesscommunications(dot)com.
About Freedom Debt Relief (http://www.freedomdebtrelief.com)
Freedom Debt Relief provides consumer debt resolution services. Working as an independent advocate for consumers to negotiate with creditors and lower principal balances due, the company has resolved more than $1 billion in debt for nearly 100,000 clients since 2002. The company is an accredited member of the American Fair Credit Council (formerly The Association of Settlement Companies) and a platinum member of the International Association of Professional Debt Arbitrators. FDR holds the Goldline Research Preferred Provider certification for excellence among debt relief companies.
Freedom Debt Relief is a wholly owned subsidiary of Freedom Financial Network LLC (FFN). Based in San Mateo, Calif., FFN also operates an office in Tempe, Ariz. The company, with more than 500 employees, was voted one of the best places to work in the San Francisco Bay area in 2008 and 2009, and in the Phoenix area in 2008, 2009 and 2010. FFN's founders received the Northern California Ernst & Young Entrepreneur of the Year Award in 2008.
###