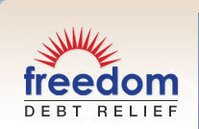 We are proud to be the only licensed debt settlement company in these states, able to help consumers in serious debt
San Mateo, CA (Vocus) November 12, 2009
Freedom Debt Relief (FDR) has become the first debt settlement company to become licensed in the states of Delaware, Iowa and Minnesota.
The new licenses expand the company's business operations to 34 states. "We are proud to be the only licensed debt settlement company in these states, able to help consumers in serious debt," said Andrew Housser, co-CEO of FDR.
FDR negotiates directly with creditors on a consumer's behalf to resolve that consumer's debt balance. Settlement amounts are often up to half of what a consumer owes. Offering qualified clients an alternative to credit counseling, debt consolidation, and bankruptcy, FDR's debt settlement programs typically help clients resolve their debts in two to four years. The programs, according to Housser, are best suited for individuals who have serious debt issues, struggle to make minimum payments, and would otherwise consider bankruptcy or credit counseling.
The company, which has led efforts to propose legislation to regulate the debt settlement industry, is one of the first in the debt settlement industry to apply and receive licenses as states adopt new laws. FDR works closely with several state legislatures to protect consumers' rights, and Housser himself sits on the board of The Association of Settlement Companies – the leading association for the debt settlement industry – and has played a lead role in promoting new consumer protection laws in many states.
"We continue to see a problem with transparency in the debt settlement industry, and we want to be a leader in helping change this," Housser said. "Our goal is to ensure that consumers have all the available information and can make decisions based on their needs, not predatory practices. We are proud to be a leader in establishing guidelines, standards and laws to help consumers who need our services the most."
FDR is experiencing record-breaking success for its debt settlement clients, said Housser. In the first eight months of this year alone, FDR settled more than $175 million in consumer debt, saving its 35,000 clients more than $100 million. "People are turning to restructuring their debt through debt relief programs as the economy struggles to stabilize," explained Housser. "With unemployment and credit card charge-off rates both approaching 10 percent, we see increasing demand for debt advice and debt counseling. More than ever, people need information about credit cards, credit scores and debt relief alternatives."
About Freedom Debt Relief (http://www.freedomdebtrelief.com)
Freedom Debt Relief provides consumer debt settlement services. Working for the consumer to negotiate with creditors and lower principal balances due, the company has served more than 60,000 clients since 2002. Freedom Debt Relief is a wholly owned subsidiary of Freedom Financial Network, LLC (FFN).
Based in San Mateo, California, FFN also operates offices in Sacramento and Tempe, Arizona. The company, with 550 employees, was voted one of the best places to work in both the San Francisco Bay Area and the Phoenix area. Company co-founders and co-CEOs Andrew Housser and Brad Stroh were named to the Silicon Valley/San Jose Business Journal's "40 Under 40" list in 2008, and are recipients of the Northern California Ernst & Young Entrepreneur of the Year Award.
###