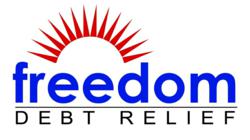 Persistence and patience are the keys to getting out of debt.
San Mateo, CA (Vocus/PRWEB) February 02, 2011
With nearly 75 percent of Americans failing to keep their New Year's resolutions, now is the time for those who resolved debt reduction in 2011 to stay motivated, said Freedom Debt Relief (FDR) vice president Kevin Gallegos.
"One of the most popular resolutions every year is to get out of debt," said Gallegos. "It's no wonder: The average American household that carries credit card debt owes around $15,000. Indebted families and individuals should indeed work hard to stick to their resolutions to get debt relief."
Experts agree that the keys to achieving a goal are to break the goal into achievable steps, be accountable to that goal, and plan rewards for small accomplishments. Gallegos offered suggestions for people to stick to their get-out-of-debt resolutions.
1. Plan spending. A spending plan involves looking at how much money comes in and how much goes out, and then committing to live within the household's means. Writing down daily spending will help to remain accountable. The household should monitor spending goals and reality each week and month to stay on track.
2. Shun credit cards. "Prepare for success by taking the plastic out of your wallet," Gallegos suggested. Write checks or use automatic bill payments for bills. To avoid going into debt for daily purchases, withdraw enough cash or use a debit card for other expenses. Remain accountable by tracking withdrawals frequently to avoid overdrawing a bank account.
3. Always pay on time. On-time payments are the most important element of good credit, Gallegos noted. Good credit scores and regular payments can eventually help credit card holders qualify for lower interest rates and thus more of a payment going to principal. And on-time payments will eliminate late fees and penalty interest rates that make debt mount faster. To succeed, keep bills in one location, check and pay bills weekly, set up online payments, or record due dates on a calendar to stay on track.
4. Save. Work toward saving 10 to 25 percent of all income. Add any amount of savings – even just a few dollars – to savings whenever possible. Savings can prevent additional debt by providing a cushion for emergencies.
5. Go beyond the minimum. Pay more than the minimum payment on every bill. If a person with a debt of $11,000 makes only the minimum payment (the higher of either 3 percent of debt or $30) every month, it will take nearly 24 years to pay off the debt at a total cost of almost $22,000. Even just adding $10 to a payment -- or rounding payments up to the next $10 or $100 increment -- will knock out debt much faster. Take on extra work, sell unneeded possessions, and apply money from a raise, bonus or gift to paying off credit card bills.
6. Pay off high rates first. Pay the most on highest-rate debt. When that is paid off, move to the next-highest-rate debt. Continue this process until all debts are paid off. Always, however, pay secured debts such as mortgage and car first.
7. Seek help. Many sources of help are available to get out of debt, especially if the situation resulted from a short-term problem such as a medical emergency. These might include debt consolidation onto a low-interest or interest-free credit card, working with creditors to secure "temporary hardship" status, or in some cases, credit counseling. People who face serious hardship can carefully investigate companies that offer debt settlement to help them fully resolve their debt without seeking bankruptcy.
"Persistence and patience are the keys to getting out of debt," said Gallegos. "Achieving any New Year's resolution requires determination and diligence, but in time, your efforts will pay off."
Freedom Debt Relief (http://www.freedomdebtrelief.com)
Freedom Debt Relief provides consumer debt resolution services. Working as an independent advocate for consumers to negotiate with creditors and lower principal balances due, the company has resolved more than $1 billion in debt for nearly 100,000 clients since 2002. The company is a charter member of The Association of Settlement Companies and a platinum member of the International Association of Professional Debt Arbitrators. FDR holds the Goldline Research Preferred Provider certification for excellence among debt settlement companies.
Freedom Debt Relief is a wholly owned subsidiary of Freedom Financial Network, LLC (FFN). Based in San Mateo, Calif., FFN also operates offices in Sacramento and Tempe, Ariz. The company, with more than 500 employees, was voted one of the best places to work in the San Francisco Bay area in 2008 and 2009, and in the Phoenix area in 2008, 2009 and 2010. FFN's founders received the Northern California Ernst & Young Entrepreneur of the Year Award in 2008.
###