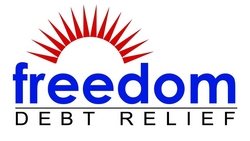 While this trend could indicate a tentative recovery for the economy, it is critical for consumers to stay on course paying down their debt.
San Mateo, CA (Vocus) October 14, 2010
Unemployment levels held steady in September, consumer revolving debt decreased again in August, and personal income has edged upward for two months, leading the debt experts at Freedom Debt Relief (FDR) to cautious optimism in the company's quarterly comment on consumer debt and credit issues.
"We are seeing consumer revolving debt at the lowest level since December 2005," said FDR vice president Kevin Gallegos. "Along with declining overall consumer debt and slightly higher income, these trends could signal that Americans finally have an opportunity to regain control of their wallets after nearly two years of struggle."
FDR CEO Andrew Housser agreed, although he cautioned that declining consumer debt does not necessarily signal that people have become financially enlightened. "As nice as it is to think declining debt balances are due to a newfound austerity, the trend has more to do with charged-off credit card balances and reduced credit limits. The net result is a decreased consumer debt burden, but it is too early to call this a sea change in consumer behavior."
Statistics from the Federal Reserve Board indicate that charge-off rates of consumer debt balances have topped 10 percent for three of the past four quarters, two to three times what they were for most of the previous two decades.
In addition, the debt burden on U.S. households is still considerable, Housser points out. About 46 percent of families -- or 48.8 million households -- carry credit card debt. The average household that carries credit card debt owes about $17,000. "It is imperative that consumers remain steady in their careful use of credit, even as the economy improves," he stresses.
A summary of statistics from recent financial reports includes:
1. Total consumer debt continues to decline. The Federal Reserve Board's statistics reporting consumer debt for August show the total revolving and non-revolving debt burden on U.S. consumers was $2.41 trillion (excluding mortgage debt). Consumers' total debt burden is 7.2 percent lower than one year ago.
2. Revolving debt is at its lowest level since 2005. Consumer revolving debt -- which includes credit cards -- was $822 billion in August. This continues the trend that began in October 2008, with revolving debt falling every month for 22 straight months. During that period, it has declined by a total of more than $146 billion, or nearly 15 percent.
3. Personal income increases slightly more. The Bureau of Economic Analysis reports that personal income rose 0.5 percent in August, increasing by $59 billion. Disposable personal income (DPI) increased by the same percentage. In July, personal income rose by 0.2 percent, while DPI was flat. "These increases are small, but we are viewing them with cautious optimism compared to June's revised figures, which show 0 percent personal income growth," Gallegos commented.
Personal consumption expenditures (PCE) increased 0.4 percent in both July and August, compared to flat PCE in June. "People are beginning to spend again, even while they pay off debt," Housser observed. "While this trend could indicate a tentative recovery for the economy, it is critical for consumers to stay on course paying down their debt."
4. Employment numbers stay steady. During September, unemployment hovered at 9.6 percent. That statistic has remained much the same for the past year.
The FDR Quarterly Comment pulls together significant statistical releases and provides quarterly comment on timely debt and credit issues that matter to consumers. To schedule an interview with Kevin Gallegos or Andrew Housser, contact Aimee Bennett at 303-843-9840 or aimee@faganbusinesscommunications.com.
About Freedom Debt Relief (http://www.freedomdebtrelief.com)
Freedom Debt Relief provides consumer debt settlement services. Working for the consumer to negotiate with creditors and lower principal balances due, the company has served more than 80,000 clients since 2002. The company is an accredited member of The Association of Settlement Companies and holds "platinum" member status with the International Association of Professional Debt Arbitrators. FDR holds the Goldline Research Preferred Provider certification for excellence among debt settlement companies.
Freedom Debt Relief is a wholly owned subsidiary of Freedom Financial Network, LLC (FFN). Based in San Mateo, CA, FFN also operates an office in Tempe, AZ The company, with more than 600 employees, was voted one of the best places to work in both the San Francisco Bay and Phoenix areas in 2008 and 2009.
###