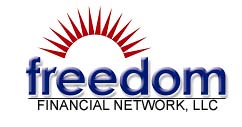 It's worrisome to see revolving credit levels moving upward, despite consumers' greater optimism.
San Mateo, CA (PRWEB) June 19, 2013
As the U.S. economy improves – barely – consumers are gradually gaining confidence and incurring additional debt, according to the Freedom Financial Network Quarterly Comment on consumer debt and credit issues.
"We're all hearing about the economic recovery, but it is a very slow recovery, just a bit more than economic stagnation," said Kevin Gallegos, vice president of Phoenix operations for Freedom Financial Network (FFN). "Unemployment has declined only one percentage point in 18 months, and earnings are sluggish. This makes it worrisome to see revolving credit levels moving upward, despite consumers' greater optimism."
The Conference Board's Consumer Confidence Survey indicates that consumer confidence is at a five-year high. This confidence might be attributed to several factors, Gallegos suggested. "First, consumers are becoming accustomed to the recent slow pace of growth – it is the 'new normal.' Second, the initial shock has worn off from the sequester and the end of the payroll tax holiday. Third, some consumers are feeling buoyed by the re-energized housing market, even as mortgage interest rates are rising."
Home sales are one bright spot in the economy this spring. U.S. home prices have posted their strongest gains since 2006, and the first quarter of 2013 was the fourth consecutive quarter of gains in housing prices (year-over-year). Gallegos noted that this trend is good news for people who are looking to move and be able to earn some profit on the sale of their homes. It is less positive for buyers, who are facing higher prices and rising mortgage interest rates, which are still low, but did reach a 15-month high in early June.
"Up to now, consumers have remained fairly cautious about going back into debt," added Andrew Housser, FFN co-founder and CEO. "We are seeing people taking some greater leaps into revolving or credit card debt, as well as into non-revolving debt such as vehicle loans and education debt," he said. "We would caution consumers not to become over-confident and take unwise financial risk."
Recent financial data as reported:
1. Total consumer debt climbs. As of April, total consumer debt (excluding mortgage debt) had increased to $2.82 trillion, the highest amount on record. This is an increase at a seasonally adjusted annual rate of 4.75 percent.
2. Revolving debt trends upward. Total consumer revolving debt, which includes credit card debt, is still fluctuating, but the total amount has crept upward in recent months, reaching a total of $849.8 billion at the end of April. This total is more than $7 billion higher than the total a year ago, in the first quarter of 2012.
3. Non-revolving credit continues to grow. Non-revolving consumer debt – which includes auto and RV loans and education loans – has continued an upward trend, reaching yet another all-time high of $1.97 trillion in April. Annual growth in non-revolving credit has slowed somewhat, at 6.4 percent in April.
4. Personal income and spending dips. In April (the most recent data available), personal income declined by less than 0.1 percent, and disposable personal income dipped 0.1 percent, the Bureau of Economic Analysis reports. Personal consumption expenditures also declined by 0.2 percent in April.
5. Unemployment remains unchanged. The U.S. Bureau of Labor Statistics reports an unemployment rate of 7.6 percent for May, essentially unchanged from the previous month. The number of people who are unemployed also was essentially unchanged in May, at 11.8 million.
The FFN Quarterly Comment pulls together significant statistical releases and provides quarterly comment on timely debt and credit issues that matter to consumers. To schedule an interview with Kevin Gallegos or Andrew Housser, contact Aimee Bennett at 303-843-9840 or aimee(at)faganbusinesscommunications(dot)com.
Freedom Financial Network (http://www.freedomfinancialnetwork.com)
Freedom Financial Network, LLC (FFN), provides comprehensive consumer credit advocacy services. Through its Freedom Debt Relief, Freedom Tax Relief and ConsolidationPlus products, FFN works as an independent advocate to provide comprehensive financial solutions, including debt settlement, debt resolution and tax resolution services for consumers struggling with debt. The company, which has resolved more than $2 billion in debt for more than 150,000 clients since 2002, is an accredited member of the American Fair Credit Council, and a platinum member of the International Association of Professional Debt Arbitrators. The company holds the Goldline Research Preferred Provider certification for excellence among debt relief companies.
Based in San Mateo, Calif., FFN also operates an office in Tempe, Ariz. The company, with more than 550 employees, was voted one of the best places to work in the San Francisco Bay area in 2008, 2009, 2012 and 2013, and in the Phoenix area in 2008, 2009, 2010 and 2012. FFN's founders received the Northern California Ernst & Young Entrepreneur of the Year Award in 2008.