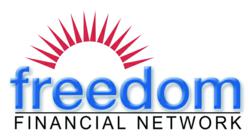 Consumer confidence is up, but it is worrisome to see debt increase without accompanying boosts in income and employment.
San Mateo, Calif. (PRWEB) December 17, 2012
Heading into the winter holidays, consumers are back on the debt train, with increases in both revolving and non-revolving debt. While they may be feeling more optimistic, the latest unemployment and earning data do not indicate any significant improvement to support that optimism, according to the Freedom Financial Network Quarterly Comment on consumer debt and credit issues.
"The good news, in some ways, is that consumer confidence is up – and that optimism sometimes can have positive effects on the overall economy," said Kevin Gallegos, vice president of Phoenix operations for Freedom Financial Network (FFN). "However, it is worrisome to see debt increase without accompanying boosts in income and employment."
The latest financial data released by national sources indicate that slightly lower levels of unemployment (due primarily to fewer people seeking work), slightly higher personal income, and slightly higher personal spending are accompanying higher consumer debt this quarter.
The Conference Board Consumer Confidence Index is currently at its highest level since February 2008. Yet nearly 39 percent of respondents to the consumer confidence survey believe jobs are "hard to get."
"In terms of spending and debt data, at this point, we are looking at data from the fall – while consumers now are entering into the largest credit card spending season of the year. Hopefully, consumers will keep a sensible rein on their wallets over the holidays, but only time will tell how they react," added Andrew Housser, FFN co-founder and CEO.
Recent financial data as reported:
1. Total consumer debt back up. After last quarter's uncharacteristic year-over-year decrease in total consumer debt, total consumer debt rose again in August, September and October. In October, the most recent month on record, total consumer debt (excluding mortgage debt) increased to $2.75 trillion.
2. Revolving debt bounces up and down. Total consumer revolving debt – which includes credit card debt – rose in August, declined in September, and rose again in October to a total of $857 billion.
3. Non-revolving credit continues to grow. Non-revolving consumer debt – which includes auto and RV loans and education loans – continues to climb steadily, reaching yet another all-time high of $1.90 trillion in October. Annual growth in non-revolving credit continues to range between 7 and 9 percent.
4. Personal income continues gradual climb. In both September and October (the most recent data available), the Bureau of Economic Analysis reports, personal income continued to eke up. Personal income rose by 0.4 percent in September, but by less than 0.1 percent in October.
5. Spending increases exceed income increases. In September, personal consumption expenditures rose by 0.8 percent – outstripping the increase in income – but in October, consumers battened down the hatches, decreasing spending by 0.2 percent.
6. Unemployment rate at lowest level in four years – but unemployed population remains level. In November, the U.S. unemployment rate continued declining, reaching 7.7 percent. That rate is significantly lower than the narrow band (8.1 percent to 8.3 percent) in which the unemployment situation previously had held steady throughout 2012. However, the number of people who are unemployed or underemployed has remained essentially the same for approximately a year, indicating that the drop in the unemployment rate is due primarily to discouraged workers who have stopped looking for work. The official unemployment rate only includes people who are actively seeking employment.
The FFN Quarterly Comment pulls together significant statistical releases and provides quarterly comment on timely debt and credit issues that matter to consumers. To schedule an interview with Kevin Gallegos or Andrew Housser, contact Aimee Bennett at 303-843-9840 or aimee(at)faganbusinesscommunications(dot)com.
Freedom Financial Network (http://www.freedomfinancialnetwork.com)
Freedom Financial Network, LLC (FFN), provides comprehensive consumer credit advocacy services. Through its Freedom Debt Relief, Freedom Tax Relief and ConsolidationPlus products, FFN works as an independent advocate to provide comprehensive financial solutions, including debt settlement, debt resolution and tax resolution services for consumers struggling with debt. The company, which has resolved more than $1.7 billion in debt for more than 140,000 clients since 2002, is an accredited member of the American Fair Credit Council, and a platinum member of the International Association of Professional Debt Arbitrators. The company holds the Goldline Research Preferred Provider certification for excellence among debt relief companies.
Based in San Mateo, Calif., FFN also operates an office in Tempe, Ariz. The company, with more than 550 employees, was voted one of the best places to work in the San Francisco Bay area in 2008, 2009 and 2012, and in the Phoenix area in 2008, 2009, 2010 and 2012. FFN's founders received the Northern California Ernst & Young Entrepreneur of the Year Award in 2008.
(end)