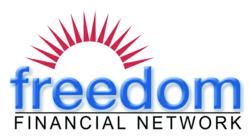 With Financial Literacy Month in full swing, consumers should stay alert to avoid excessive debt.
San Mateo, CA (PRWEB) April 25, 2012
The first quarter of 2012 brought significant upward momentum for the economy, and some evidence of potentially savvier decisions about debt by consumers, according to the Freedom Financial Network Quarterly Comment on consumer debt and credit issues. With Financial Literacy Month in full swing, the company's executives reminded consumers to now stay alert to avoid excessive debt.
Data at the end of March indicates that consumer confidence rose in March, in tandem with increased consumer spending, which rose to its highest in several months. At the same time, unemployment declined, personal income also rose, and non-revolving consumer credit rose.
"Non-revolving consumer credit includes debt accrued for substantial purposes, such as buying vehicles or borrowing for education, and a significant portion of this quarter's change was in educational funding," said Kevin Gallegos, vice president of Phoenix operations for Freedom Financial Network (FFN). "While any type of debt can be misused, we generally consider these types of debt 'healthy' debt, because they help individuals to build a brighter future."
While it can be a wise decision to invest in education or purchase a vehicle needed to get to work, Gallegos pointed out that it is important for consumers not to be over-confident and enter into excessive debt. Generally, financial experts agree that total debt payments should never exceed 36 percent of gross income. That includes all payments for housing, car loans, student loans, child support, and homeowners association or condominium fees.
Recent financial data as reported:
1. Total consumer debt continues to climb. The latest data from the Federal Reserve Board show that total consumer debt has been climbing for at least four quarters. In February, the most recent month on record, total consumer debt (excluding mortgage debt) was $2.52 trillion. That marks an increase of $113.5 billion, or nearly 5 percent, over consumer debt at year-end 2010.
2. Non-revolving credit reaches all-time high. After climbing for the 10th consecutive month, non-revolving consumer debt – which includes auto and RV loans, and education loans – reached an all-time high of $1.72 trillion in February. That figure is $32.5 billion higher than year-end 2011, an increase of nearly 2 percent, and an annual increase of 7.75 percent.
3. Revolving debt declined in February. In contrast, total consumer revolving debt – which includes credit card debt – declined for the second month in a row. The annualized rate of decline was 3.25 percent. The new total revolving debt stood at $798.6 billion in February.
4. Personal income continues to rise. The Bureau of Economic Analysis reported that personal income rose again in February, after several consecutive months. February's increase was 0.2 percent, or $28.2 billion. Disposable personal income increased by the same percentage, by 0.2 percent ($18.9 billion).
5. Spending increased more. In February, following several months of low increases, personal consumption expenditures rose by 0.8 percent ($86.0 billion).
6. Household debt ratio continues trend of decline. During 2011's fourth quarter, the household debt service ratio (the estimated ratio of debt payments to disposable income) declined again to 10.88. (First quarter data has not yet been released.) The household debt service ratio has declined for 12 consecutive quarters.
7. Employment numbers slightly improved. The U.S. unemployment rate declined 0.1 percent in March to 8.2 percent. That is a year-over-year improvement of 0.7 percent from the 8.9 percent rate in March 2011.
FFN co-founder and CEO Andrew Housser added, "It bodes well for a continuing, gradual economic recovery that several important indicators have been trending upward. Nevertheless, consumers still face significant cost pressures in terms of rental housing, food prices and gasoline prices, and it is important that they remain vigilant with their credit to avoid dangerous levels of debt."
The FDR Quarterly Comment pulls together significant statistical releases and provides quarterly comment on timely debt and credit issues that matter to consumers. To schedule an interview with Kevin Gallegos or Andrew Housser, contact Aimee Bennett at 303-843-9840 or aimee(at)faganbusinesscommunications(dot)com.
Freedom Financial Network (http://www.freedomfinancialnetwork.com)
Freedom Financial Network, LLC (FFN), provides comprehensive consumer credit advocacy services. Through its Freedom Debt Relief, Freedom Tax Relief and ConsolidationPlus products, FFN works as an independent advocate to provide comprehensive financial solutions, including debt settlement, debt resolution and tax resolution services for consumers struggling with debt. The company, which has resolved more than $1.5 billion in debt for more than 120,000 clients since 2002, is an accredited member of the American Fair Credit Council (formerly The Association of Settlement Companies) and a platinum member of the International Association of Professional Debt Arbitrators. The company holds the Goldline Research Preferred Provider certification for excellence among debt relief companies.
Based in San Mateo, Calif., FFN also operates an office in Tempe, Ariz. The company, with more than 500 employees, was voted one of the best places to work in the San Francisco Bay area in 2008, 2009 and 2012, and in the Phoenix area in 2008, 2009 and 2010. FFN's founders received the Northern California Ernst & Young Entrepreneur of the Year Award in 2008.
(end)