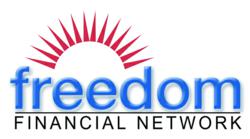 San Mateo, CA (PRWEB) April 18, 2012
Freedom Financial Network (FFN) has announced results for the first quarter of the year, including resolutions on $102.6 million of debt for clients.
The largest negotiator of consumer debt in the nation achieved settlements on 17,696 individual creditor accounts for nearly 14,000 clients, said Andrew Housser, co-founder and co-CEO of FDR. "That equates to settling more than a million dollars of debt each day, or nearly $47,000 every hour," he added. First-quarter results also are up 4 percent from the previous quarter in terms of creditor accounts resolved.
"These figures speak to the fact that FFN is obtaining real, needed help for people in serious debt – and maintaining its position as the industry leader," said Housser. "The results we obtain for our clients, as they work their way out of debt, provide clear indication of FFN's abilities, skill and commitment."
FFN's Freedom Debt Relief program ensures that consumers pay no up-front fees, and that FFN collects only the fees associated with an individual debt when it has resolved that debt. The program fully complies with both the spirit and the letter of the Federal Trade Commission regulations on the debt relief industry, explained Housser. "Many companies claiming to comply with the letter of FTC rules continue to seek loopholes that might allow them to charge fees before consumer debts are settled," he said. "FFN clients will find no up-front fees charged under any loopholes in the regulations."
FFN is a consumer credit advocate that negotiates directly with creditors on consumers' behalf to resolve debt balances. Offering an alternative to credit counseling, debt consolidation and bankruptcy, the company's debt relief program helps clients who qualify for, and commit to, the program resolve their unsecured debt, often in 24 to 48 months. According to Housser, debt resolution is best suited for individuals who are carrying serious debt, who are struggling to make required minimum payments, and who would otherwise often be considering bankruptcy or credit counseling.
Freedom Financial Network (http://www.freedomfinancialnetwork.com)
Freedom Financial Network, LLC (FFN), provides comprehensive consumer credit advocacy services. Through its Freedom Debt Relief, Freedom Tax Relief and ConsolidationPlus products, FFN works as an independent advocate to provide comprehensive financial solutions, including debt settlement, debt resolution and tax resolution services, for consumers struggling with debt. The company, which has resolved more than $1.5 billion in debt for more than 120,000 clients since 2002, is an accredited member of the American Fair Credit Council (formerly The Association of Settlement Companies) and a platinum member of the International Association of Professional Debt Arbitrators. The company holds the Goldline Research Preferred Provider certification for excellence among debt relief companies.
Based in San Mateo, Calif., FFN also operates an office in Tempe, Ariz. The company, with more than 500 employees, was voted one of the best places to work in the San Francisco Bay area in 2008, 2009 and 2012, and in the Phoenix area in 2008, 2009 and 2010. FFN's founders received the Northern California Ernst & Young Entrepreneur of the Year Award in 2008.
(end)